BSNL agitational programme and charter of demands, as decided in 06.07.2020 meeting
ALL UNNIIO AND ASSOCIATION OF BSNL (AUAB)
No:UA/2020
Dated: 07.07.2020
Circular
To
All the General Secretaries,
AUAB
Dear comrades,,
The AUAB meeting held yesterday the 06.07.2020 has decided to call on the BSNL employees to organise lunch hour black flag demonstrations on 16.07.2020. It is also decided that the employees should wear black badge on that day. The following are the agitational programme and charter of demands, as decided in yesterday's meeting.
Agitational programme
All the employees are called upon to wear black badge on 16.07.2020. Black flag demonstrations are to be organised by the employees during lunch hour on 16.07.2020, against the cancellation of BSNL's 4G tender and against the road blocks being created in the rolling out of BSNL's 4G services.
A memorandum is to be submitted to all the MPs during the period from 13.07.2020 to 31.07.2020, urging upon them to intervene in favour of BSNL's expeditious rolling out of 4G network, as well as the early revival of BSNL.
Twitter campaign is to be organised on 05.08.2020, demanding immediate rolling out of 4G network by BSNL and implementation of the assurances given in the Revival Package.
Demands:
BSNL should immediately be allowed to roll out it's 4G Services.
BSNL should take immediate actions to upgrade the 4G compatible BTSs.
Add on order for 4G equipments as per Phase VIII.4 tender should be issued immediately.
In the matter of procuring new equipments and upgrdation, there should not be any discrimination, between BSNL and other private telecom service providers.
View: गैर-सांविधिक विभागीय कैंटीन कर्मचारियों के बच्चों हेतु छात्रवृत्‍त‍ि स्कीम का संशोधन Revision of Scholarship Scheme for the Children of Non- Statutory Departmental Canteen
The Government should immediately implement the decisions contained in BSNL's Revival Package, like extension of Sovereign Guarantee for the issuing of Bonds.
Urgent measures should be undertaken by the BSNL Management for immediately improving the quality of service.
The Management should ensure that the salary payment of the employees is made on the last working of every month.
The Management should immediately take steps to ensure that the employees get cashless treatment from empanelled hospitals during Covid 19 pandemic. The Management should pay Rs.10 lakh to the family of the employees who die due to COVID-19. Based on the instructions issued by the DoT, the Postal Department has already introduced such a scheme to it's employees.
All the circle and district unions are requested to coordinate with the other constituents of the AUAB and to make the agitational programme a total success. Circle and district secretaries are requested to go through the AUAB circular for full details.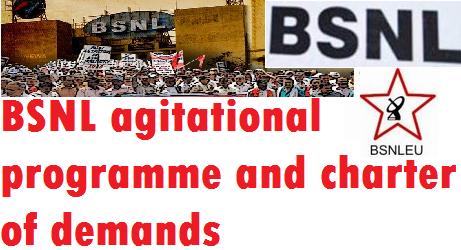 Source : bsnleu.in