7th Pay Commission: Govt May Delay Higher Allowances By Another 3-4 Months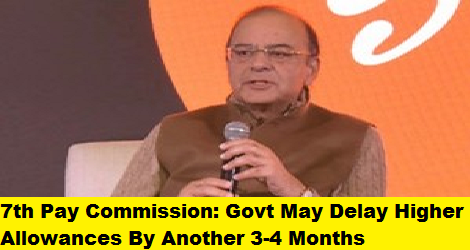 Central government employees' pay bill are unlikely to get increased salary up to March for higher allowances, as the central government might delay the hike higher allowances by by another 3-4 months on the pretext of the model code of conduct, which is currently in place for five states assemblies' poll.
The 'Committee on Allowances' led by Finance Secretary Ashok Lavasa has finalized the report on the allowances in October last year but the government don't want to announce it now, so the government gave extension the committee till February 22, 2017 to submit the report on higher allowances under the pretence of the cash crunch position.
The government has given higher basic pay with arrears, effective from January 1, 2016 to its employees on the recommendations of the 7th pay commission but referred hike in allowances other than dearness allowance to the 'Committee on Allowances' for examination as the 7th pay commission had recommended for abolishing 51 allowances and subsuming 37 others out of 196 allowances.
Wishing anonymity, a finance ministry official said, "the government want to keep in abeyance to issue higher allowances notification as government wishes to give the higher allowances without arrears from August,the implementation month of the 7th Pay Commission recommendations, to its employees.
If the government gives the nod higher allowances with retrospective effect from August 2016, the arrears should be paid and the Finance Minister Arun Jaitley is very much against the payment of higher allowances arrears and it is just a tactic to delay the announcement of higher allowances to compel the central government employees to get the allowances according to the 6th Pay Commission recommendations until issuing of higher allowances notification."
"The committee on allowances proposed higher allowances from August 2016, which is likely not to be accepted by the Fgovernment," official confirmed.