7th pay commission is running behind schedule and it is likely seek extension from Government of India, Please read this news paper report:-
[Click for larger image]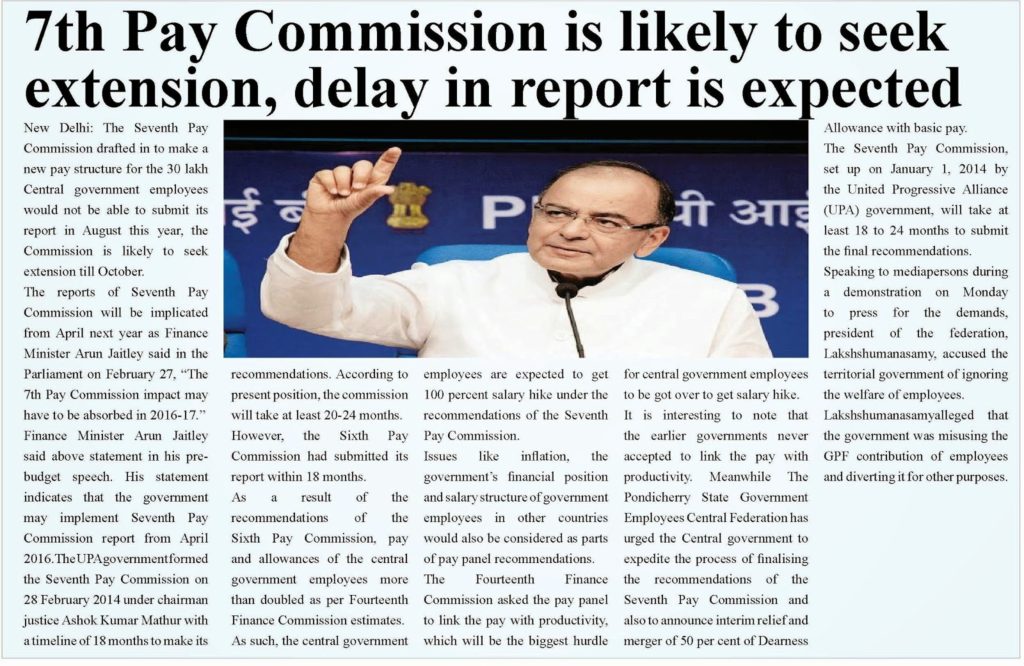 7th Pay Commission is likely to seek extension, delay in report is expected
New Delhi: The Seventh Pay Commission drafted in to make a new pay structure for the 30 lakh Central government employees would not be able to submit its report in August this year, the Commission is likely to seek extension till October.
The reports of Seventh Pay Commission will be implicated from April next year as Finance Minister Arun Jaitley said in the Parliament on February 27, "The 7th Pay Commission impact may have to be absorbed in 2016-17."
Finance Minister Arun Jaitley said above statement in his pre-budget speech. His statement indicates that the government may implement Seventh Pay Commission report from April 2016. The UPA government formed the Seventh Pay Commission on 28 February 2014 under chairman justice Ashok Kumar Mathur with a timeline of 18 months to make its recommendations. According to present position, the commission will take at least 20-24 months. However, the Sixth Pay Commission had submitted its report within 18 months.
As a result of the recommendations of the Sixth Pay Commission, pay and allowances of the central government employees more than doubled as per Fourteenth Finance Commission estimates. As such, the central government employees are expected to get 100 percent salary hike under the recommendations of the Seventh Pay Commission.
Issues like inflation, the government's financial position and salary structure of government employees in other countries would also be considered as parts of pay panel recommendations.
The Fourteenth Finance Commission asked the pay panel to link the pay with productivity, which will be the biggest hurdle for central government employees to be got over to get salary hike.
It is interesting to note that the earlier governments never accepted to link the pay with productivity. Meanwhile the Pondicherry State Government Employees Central Federation has urged the Central government to expedite the process of finalising the recommendations of the Seventh Pay Commission and also to announce interim relief and merger of 50 per cent of Dearness Allowance with basic pay.
The Seventh Pay Commission, set up on January 1, 2014 by the United Progressive Alliance (UPA) government, will take at least 18 to 24 months to submit the final recommendations.
Speaking to mediapersons during a demonstration on Monday to press for the demands, president of the federation, Lakshshumanasamy, accused the territorial government of ignoring the welfare of employees. Lakshshumanasamy alleged that the government was misusing the GPF contribution of employees and diverting it for other purposes.
Source: http://www.govemployees.in/wp-content/uploads/2015/04/delay-in-7th-cpc.jpg
Stay connected with us via Facebook, Google+ or Email Subscription.
Subscribe to Central Government Employee News & Tools by Email [Click Here]
Follow us: Twitter [click here] | Facebook [click here] | Google+ [click here]
Admin