Observance of Anti-Terrorism Day – Pledge-taking ceremony on 21st May, 2015: Ministry of Home Affairs Order for All Central Government Ministry Department, CPSE, State etc
No. 19/13/2015-Public
Government of India/ Bharat Sarkar
Ministry of Home Affairs/Grih Mantralaya
North Block, New Delhi,
Dated the 11th May, 2015
To
Chief Secretaries of all State Governments,
Administrators of all Union Territories, and
Secretaries of all Ministries/Departments
of the Govt. of lndia.
Subject: Observance of Anti-Terrorism Day.
Sir,
I am directed to say that every year May 21 is observed as Anti-Terrorism Day. The objective behind observance of this day is to wean away the youth from terrorism and the cult of violence by highlighting the sufferings of common people and showing as to how it is prejudicial to the national interest.
2. The ways in which, this objective can be achieved have been enumerated below:-
(i) by organizing debates/discussions in schools, colleges and universities;
(ii) holding of symposiums/ seminars, lectures, etc. on the dangers of terrorism & violence;
(iii) a determined and sustained drive to bring about a mass awakening against terrorism and violence by making appropriate projection through the media i.e. newspapers, journals, magazines, All India Radio and .Doordarshan etc; including pestering and pamphleteering;
(iv) for the mass education programme, to highlight the ill-effects of violence and terrorism, imaginative use of the electronic/ print media by involving prominent sports, film and other prominent personalities and distribution of T-Shirts with attractive anti-violence / terrorist, slogans;
(v) involving voluntary organizations, social and cultural bodies to have their own programmes through lectures, talks, discussions, magical and recitation programmes and cultural functions;
(vi) anti-terrorism/violence pledge to be taken in all Government offices, public sector undertakings and other public institutions.
3 The above are some illustrative items of the proposed programme; you may kindly add or modify to suit special requirement, if any, prevailing in your I request you. to kindly look into the matter personally and provide guidance to all concerned in your State including necessary publicity, to organise various programmes all over the State in observing 21st May as 'Anti-Terrorism Day' in a most befitting manner.
4. An important. feature of the observance of the Anti-Terrorism Day is the "pledge-taking" ceremony in all Government offices, public sector undertakings and other public institutions. A copy of the "pledge" (both in English & Hindi) is enclosed.
5. You are, accordingly, requested to organize appropriate programmes, including the pledge-taking ceremony, to observe the. Anti-Terrorism Day in a befitting manner.
Yours faithfully,
(Satpal Chouhan)
Joint Secretary to the: Government of India
As above: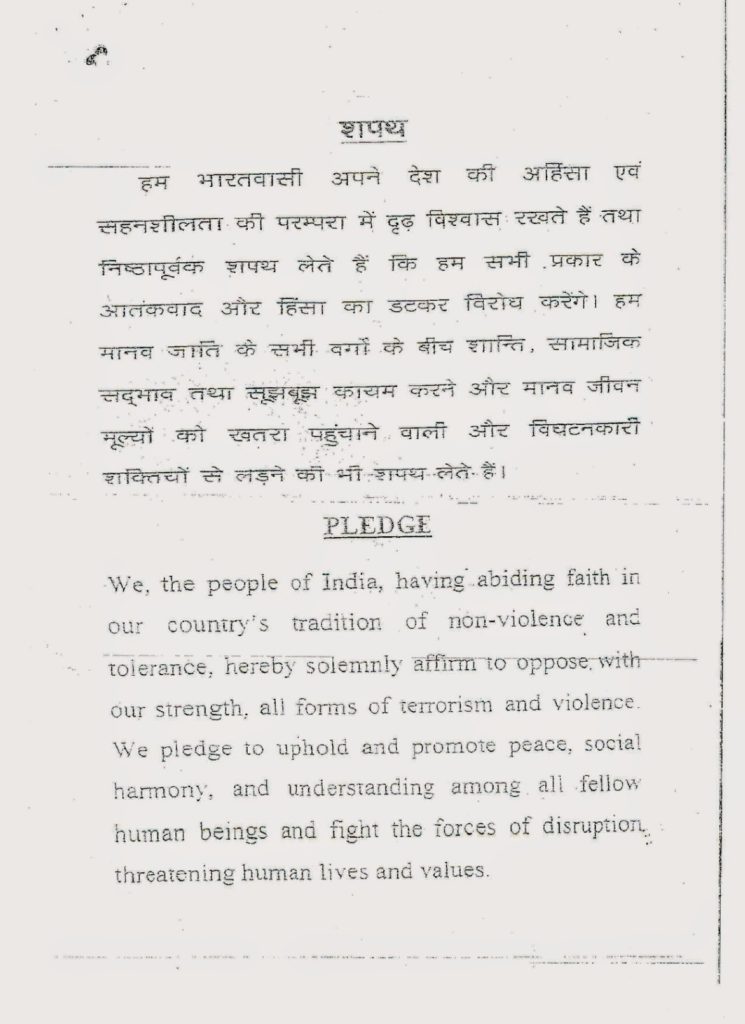 Anti-terrorism Day Pledge
Click here for Text of Pledge
Source: http://cgda.nic.in/adm/circular/obsrantiterr180515.pdf
Stay connected with us via Facebook, Google+ or Email Subscription.
Subscribe to Central Government Employee News & Tools by Email [Click Here]
Follow us: Twitter [click here] | Facebook [click here] | Google+ [click here]
Admin