'One rank, one pension' cleared: Parrikar – The Times of India News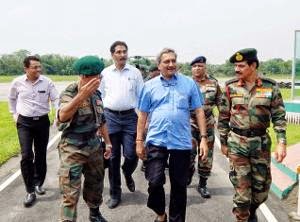 PANAJI: The much-awaited "one rank, one pension" (OROP) for the armed forces is likely to be cleared in a few days, defence minister Manohar Parrikar said in Goa on Saturday.
"OROP proposal is in final stage. The defence ministry has approved it and the finance ministry will clear it in a few days," he added.
He said it is the first time that a clear proposal has been sent to finance ministry on OROP.
An estimated Rs 8,000 crore is likely to be allocated by the government to fulfill its commitment to the over 25 lakh ex-servicemen, who have been demanding OROP for several years.
Read at The Times of India
Stay connected with us via Facebook, Google+ or Email Subscription.
Subscribe to Central Government Employee News & Tools by Email [Click Here]
Follow us: Twitter [click here] | Facebook [click here] | Google+ [click here]
Admin