Parrikar asks ex-servicemen to be patient on OROP
Jaipur, Jun 14, 2015, PTI: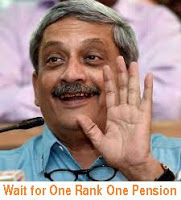 Even as ex-servicemen held protests over delay in non-implementation of the 'One Rank, One Pension' scheme, Defence Minister Manohar Parrikar today sought to assuage their concerns, saying the "promises" made will be kept and that they should be "patient".
"I assure you whatever we have promised that all would be done… but some people need to be patient," Parrikar said addressing a conference here on challenges and solutions regarding border safety.
Upset over the delay in implementation of OROP, ex-servicemen held protests across the country, including in the national capital, demanding its immediate introduction. The former soldiers have threatened to go an a relay hunger strike from tomorrow. Parrikar also stressed on "zero tolerance" to acts of terrorism to address concerns about national security.
Ex-servicemen to continue nationwide protests over OROP delay: The Hindu
Say it is Modi's promise; Parrikar counsels patience.
Continuing their pressure on the government over the delay in implementing the long-pending One-Rank, One-Pension (OROP) scheme, ex-servicemen took out a massive rally on Sunday in the national capital and across the country to express their displeasure. They also announced indefinite relay hunger strike from Monday. Meanwhile, Defence Minister Manohar Parrikar asked ex-servicemen to have "patience" and said the government would deliver on its promise.
The rally comes after several rounds of official and backchannel talks failed to make any headway. The veterans had been demanding that the government announce a timeline for implementation of OROP.
"Prime Minister Narendra Modi has assured us that it will be implemented, but it has been one year," said Col. (retd.) Anil Kaul, media adviser to the Indian Ex-Servicemen Movement (IESM).
'Equality and rights'
Maintaining that they were not against the government, the veterans asserted that, "it was not about money, but it was about equality and rights."
Speaking at a conference in Jaipur, Mr. Parrikar asked ex-servicemen to have patience. "I assure you whatever we have promised that all would be done … but some people need to be patient," he said.
Warrant Officer Guru Dayal Singh Saggu, a 92-year-old veteran who attended the rally at Jantar Mantar, said, "Genuine requirements of all should be addressed." He added that he had dedicated his lifetime for "my brethren" and would continue to support the cause of ex-servicemen.
A majority of those present at the rally signed petitions in blood which they plan to submit to the President Pranab Mukherjee. Asked why they were signing in blood, one retired officer quoted Subhash Chandra Bose who said "Give me blood and I will give you freedom."
The veterans also reiterated that there was only one definition on OROP and asked the government to adhere to it. Mr. Modi had said in an interview that the delay was partly due to "several definitions" and the government was working to get a consensus.
Stay connected with us via Facebook, Google+ or Email Subscription.
Subscribe to Central Government Employee News & Tools by Email [Click Here]
Follow us: Twitter [click here] | Facebook [click here] | Google+ [click here]
Admin