Don't drag armymen to the apex court, show respect: SC to government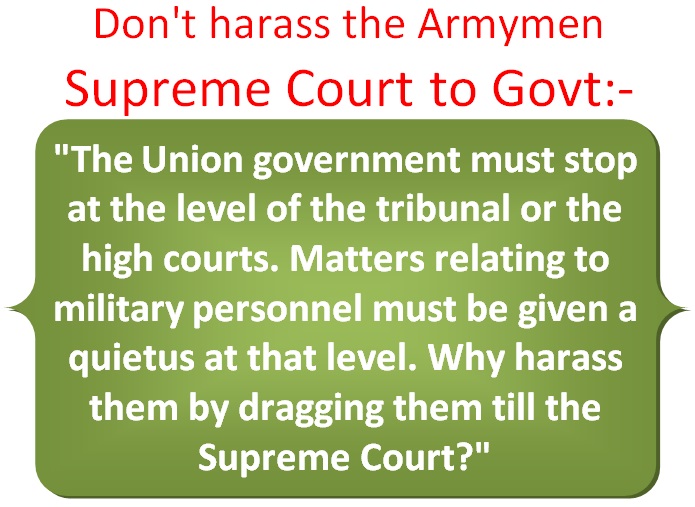 NEW DELHI: TNN
|
Aug 13, 2015 | Ahead of Independence Day, patriotic fervour flowed in the Supreme Court, which told the Union government and the defence ministry to respect the sacrifices made by armed forces personnel and desist from dragging them till the highest court for resolving disputes.
A bench of Chief Justice H L Dattu and Justices P C Ghose and A M Sapre dismissed an appeal filed by the Union government against an order of the Delhi high court granting benefit to civilian employees in the Army under the Assured Career Progression (ACP) scheme and told advocate R Balasubramaniam to advise his clients not to drag "military personnel to the highest court".
The CJI-headed bench refused to entertain the Centre's appeal and said, "The Union government must stop at the level of the tribunal or the high courts. Matters relating to military personnel must be given a quietus at that level. Why harass them by dragging them till the Supreme Court?"
The bench told Balasubramaniam that the government must respect the sacrifices made by military men for the country and must stop at the tribunal or HC level. "Once these two forums give a concurrent finding, the government must accept the same and should not drag the armed forces personnel till the Supreme Court," it said.
The Centre had pleaded that both the Central Administrative Tribunal and the HC erred by not appreciating the fact that financial upgradation under the ACP scheme would be purely personal to the employee and would not have any relevance to his seniority.
It said the office memorandum dated August 9, 1999 had clearly stipulated that there would be no additional financial up-gradation for senior employees on the ground that the junior employee in the grade had got higher pay scale under the ACP scheme.
Stay connected with us via Facebook, Google+ or Email Subscription.
Subscribe to Central Government Employee News & Tools by Email [Click Here]
Follow us: Twitter [click here] | Facebook [click here] | Google+ [click here]
Admin