Finance ministry braces for Seventh Pay Commission recommendations: LiveMint Article
Salary, pension costs set to grow 15.8% and 16%, respectively, in FY17, leaving govt less money to build capital assets
New Delhi: The finance ministry is apprehensive about the recommendations of the Seventh Pay Commission, expected this month, significantly increasing the revenue expenditure of the government in the next fiscal, leaving it less money to spend on building capital assets.
In the medium-term expenditure framework statement laid before Parliament on Wednesday, the finance ministry said salary and pension expenditure is expected to rise by 15.8% and 16%, respectively, in 2016-17, which may leave capital expenditure room to grow by no more than 8% during the year.
Total revenue expenditure is expected to jump 8.1% to Rs.16.6 trillion in 2016-17 against a budgeted growth of 3.1% in 2015-16. During the same period, growth in capital expenditure is expected to slow to 8%, at Rs.2.6 trillion, from a budgeted growth of 25.4%.
The finance ministry said award of the Seventh Pay Commission's suggestions, with their consequent impact on government finances, "poses a risk".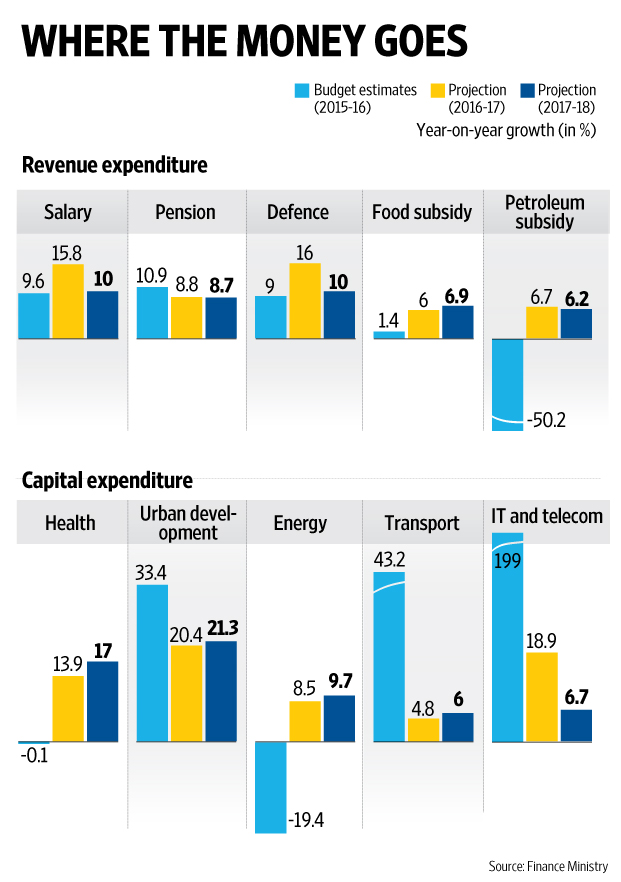 The government appointed the Seventh Pay Commission on 28 February 2014 under chairman, Justice Ashok Kumar Mathur, with a time frame of 18 months to make its recommendations.
"The pay commission impact may have to be absorbed in 2016-17. The phase of consolidation, extended by one year, will also be spanning out in this period. Thus, in the medium-term framework, the fiscal position will continue to be stressed," the finance ministry said in the 2015-16 budget presented in February.
The Union budget cut the plan expenditure for the first time in many years by Rs.2,657 crore to Rs.4.7 trillion in 2015-16 from the revised estimate of 2014-15, as the centre shared an additional Rs.1.86 trillion with states.
The Finance Commission has raised the united share of states in net central taxes to 42% from 32%.
The tight fiscal situation forced the government to revise its fiscal consolidation road map and set a less ambitious fiscal deficit target of 3.9% of the gross domestic product (GDP) for 2015-16 against the earlier target of 3.6% set in last year's budget.
The Sixth Pay Commission, which was constituted in October 2006, had submitted its report in March 2008.
As a result of the recommendations of the Sixth Pay Commission, pay and allowances of Union government employees more than doubled between 2007-08 and 2011-12—from Rs.74,647 crore to Rs.166,792 crore, according to the Fourteenth Finance Commission (FFC) estimates.
"As a ratio of GDP, it jumped from a little over 0.9% in 2007-08 to 1.2% in 2008-09 and about 1.4% in 2009-10 on account of both pay revision and payment of arrears. However, it moderated to a little over 1% in 2012-13," the Finance Commission said.
The recommendations of the Sixth Pay Commission were implemented by states with a delay mainly between 2009-10 and 2011-12, with "significant expenditure outgo", FFC said.
FFC had said that while the finance ministry projects an increase in pension payments by 8.7% in 2015-16, a 30% increase is expected in 2016-17 on account of the impact of the Seventh Pay Commission, followed by an annual growth rate of 8% in subsequent years.
Read at: Live Mint
Stay connected with us via Facebook, Google+ or Email Subscription.
Subscribe to Central Government Employee News & Tools by Email [Click Here]
Follow us: Twitter [click here] | Facebook [click here] | Google+ [click here]
Admin