7th Pay Commission Likely To Recommend Performance-Based Increment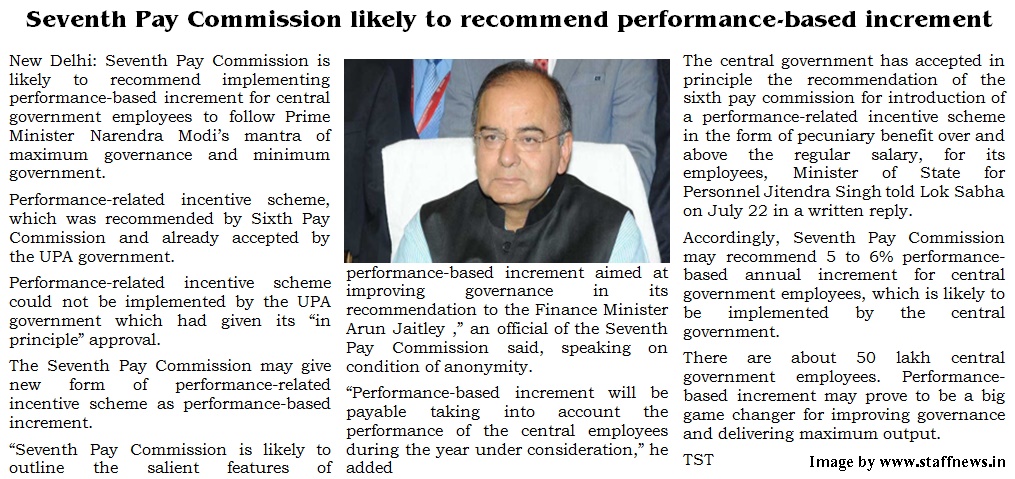 Seventh Pay Commission is likely to recommend implementing performance-based increment for central government employees to follow Prime Minister Narendra Modi's mantra of maximum governance and minimum government.
Performance-related incentive scheme, which was recommended by Sixth Pay Commission and already accepted by the UPA government.
Performance-related incentive scheme could not be implemented by the UPA government which had given its "in principle" approval.
The Seventh Pay Commission may give new form of performance-related incentive scheme as performance-based increment.
"Seventh Pay Commission is likely to outline the salient features of performance-based increment aimed at improving governance in its recommendation to the Finance Minister Arun Jaitley ," an official of the Seventh Pay Commission said, speaking on condition of anonymity.
"Performance-based increment will be payable taking into account the performance of the central employees during the year under consideration," he added
The central government has accepted in principle the recommendation of the sixth pay commission for introduction of a performance-related incentive scheme in the form of pecuniary benefit over and above the regular salary, for its employees, Minister of State for Personnel Jitendra Singh told Lok Sabha on July 22 in a written reply.
Accordingly, Seventh Pay Commission may recommend 5 to 6% performance-based annual increment for central government employees, which is likely to be implemented by the central government.
There are about 50 lakh central government employees. Performance-based increment may prove to be a big game changer for improving governance and delivering maximum output.
Source: The Sen Times
Stay connected with us via Facebook, Google+ or Email Subscription.
Subscribe to Central Government Employee News & Tools by Email [Click Here]
Follow us: Twitter [click here] | Facebook [click here] | Google+ [click here]
Admin