Latest status of cases pending for revision of pension as per DP&PW OM 30th July, 2015
F. No. CPAO/Co-ord/ (93)/2015-16/1130
Government of India
Ministry of Finance,
Department of Expenditure,
Central Pension Accounting Office,
Trikoot-II, Bhikaji Cama Place,
New Delhi-110066
Dated: 18th February, 2016
OFFICE MEMORANDUM
Sub: OM No.38/37/08-P&PW (A) dated 30th July, 2015 of DP&PW: Pending revision of pension cases.
Attention is invited to OM. No. CPAO/Co-ord/ (93)/2015-16/ 1052-1065 dated 13.01.2016 on the above subject. Though substantial number of cases have been revised, still large number of cases are pending for revision in Ministries/Departments.
A list of 9 Ministries/Departments which together constitute 75% of pendency as on 17.02.2016 is attached. Out of total 4127 revision cases pending in Ministries/ Departments, 3105 pendencies pertain to 9 Ministries/Departments. The details of unrevised cases are provided at the CCA & PAO login of CPAO website (www.cpao.nic.in).
All concerned Pr. CCAs/CCAs are requested to review the status and ensure that all pending cases are revised latest by 29th February, 2016 positively.
Encl: As above
sd/-
Chief Controller (Pensions)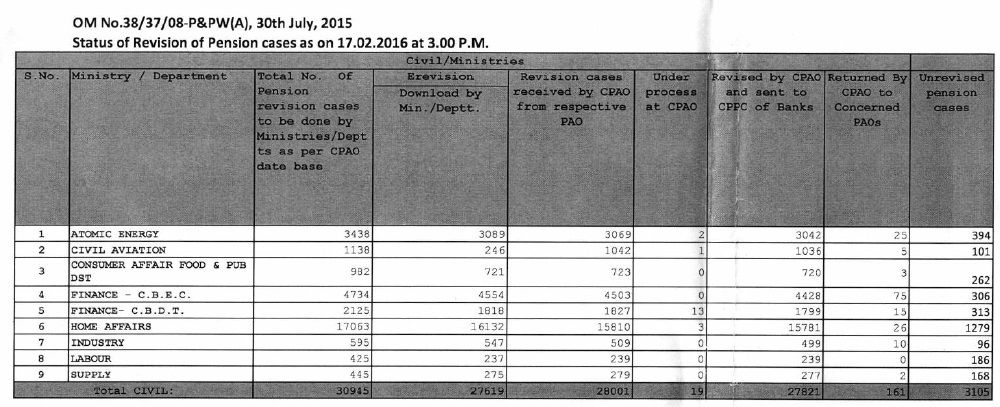 Source: http://cpao.nic.in/pdf/OM_NO_CPAO_CO-ORD_93_2015-16.pdf
Stay connected with us via Facebook, Google+ or Email Subscription.
Subscribe to Central Government Employee News & Tools by Email [Click Here]
Follow us: Twitter [click here] | Facebook [click here] | Google+ [click here]
Admin