CGDA Notice : Defence Pension Adalat at Pune – Satara from 7th to 9th April 2016
Holding of Defence Pension Adalat at Pune – Satara from 7th to 9th April 2016
Notice
A Defence Pension Adalat, 139th in the series of Adalats held by the Defence Accounts Department, is being held at Pune from 7th – 8th April, 2016, followed by a mobile pension camp at Satara on 9th April, 2016.
The Defence Pension Adalat at Pune – Satara is being organized by the PCDA (P) Allahabad.
The Nodal Officer details for the Defence Pension Adalat Pune-Satara are as follows:
Nodal Officer : Shri Ashish Sen, Sr.A.O.
O/o PCDA (P) Allahabad
Tel/Fax No : 0532 – 2421873; 2420330
Mob. No : 09415145879
Email ID : [email protected]
All concerned are requested to take a
note of the Adalat schedule and forward their pension related
application/queries to the nodal officer under PCDA (Pension). The venue
of the Adalat is 'Dhanvantri' Auditorium, AFMC, Pune.
The Defence Pension Adalat at Pune is likely to be inaugurated by Hon'ble Raksha Mantri on 7th April 2016.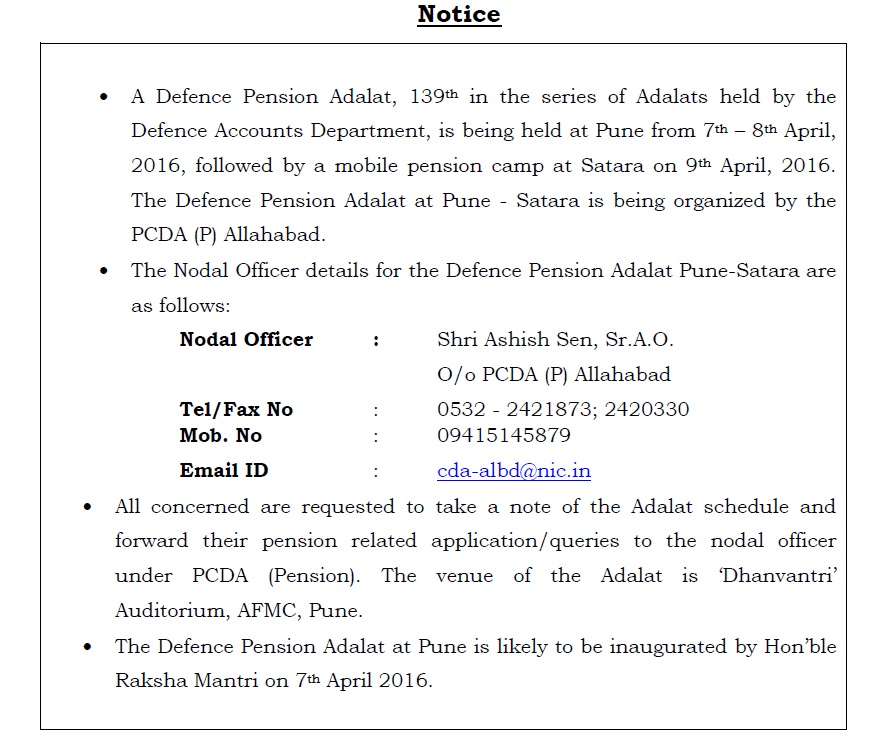 Source: www.cgda.nic.in
[http://cgda.nic.in/audit/Pune%20Adalat.pdf]
Stay connected with us via Facebook, Google+ or Email Subscription.
Subscribe to Central Government Employee News & Tools by Email [Click Here]
Follow us: Twitter [click here] | Facebook [click here] | Google+ [click here]
Admin