CITU criticises draft rules on Contract Labour; seeks Rs 18000 min wage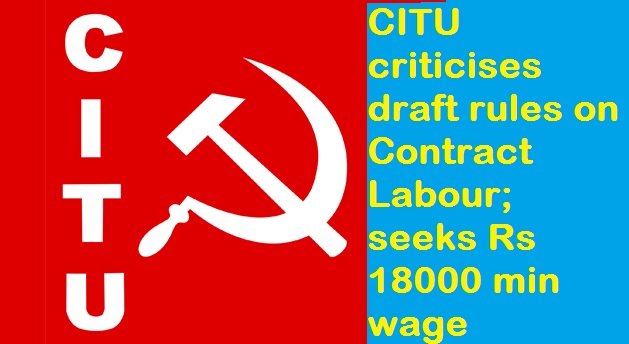 New Delhi, Apr 12 (KNN) Central Indian Trade Union (CITU) has criticised the draft Contract Labour Rules, which proposes a minimum wage of Rs 10,000 for contract workers among others. The trade union is demanding to raise the minimum wage up to Rs 18,000 for all.
In a statement, CITU said that the minimum wage should be fixed at not less than Rs 18000/- at the current price level along with the provision for indexation. This not an arbitrary demand and the Seventh Pay Commission also made similar recommendation. This is as per the formula decided by the is" Indian Labour Conference supplemented by the Supreme Court Judgment in Raptakkos Brett case and this formula has been unanimously endorsed by the 44th Session of Indian Labour Conference and reiterated again unanimously by the 46th ILC. This formula must be made a part of the Minimum Wages Act and this Act should be amended accordingly instead pursuing the Wage Code Bill.
The draft rules that seek to modify some provisions of the Contract Labour (Regulation & Abolition) Central Rules, 1971, were notified on March 30 by the Labour Ministry for seeking comments of stakeholders within a months' time to formalise it.
Moreover, it is surprising as to how the Ministry could conceive keeping certain gross inconsistency /anomaly in built in the proposal. At present, in most of the states and establishments, the statutory minimum wage payable also to the regular workers ranges on the average from Rs 5500 to Rs 8000.
Will it be possible either by the state governments or central government to create a situation where contract workers are getting minimum Rs 10000/- as per the proposed change and the regular workers in the same establishment are getting less than that? Such inconsistency or anomaly if allowed to remain will become a plea for the employers not to implement the same. Is that the intention for the whole exercise?, CITU asked.
Any proposal for improving the lot of the contract workers must be incorporated in the body of the main Act, i.e., the Contract Labour (Regulation & Abolition) Act, if the intention is real. Already the Union Labour Ministry in line with the conclusions of Indian Labour Conference mooted out a proposal in 2011 to incorporate section 2S(2)(v)(a) of the Central Rules 1971 in the body of the main Act. (KNN Bureau)
Read at: KNN India
Stay connected with us via Facebook, Google+ or Email Subscription.
Subscribe to Central Government Employee News & Tools by Email [Click Here]
Follow us: Twitter [click here] | Facebook [click here] | Google+ [click here]
Admin