UGC pay hike plan: The Telegraph News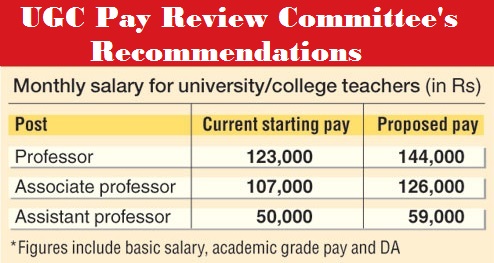 New Delhi, Feb. 22: The UGC today recommended a 20 per cent pay hike for university and college teachers.
A performance-linked promotion system has been suggested with stress on research. The retirement age will remain unchanged at 65.
The recommendations, made by a five-member committee, have to be accepted by the HRD ministry. If approved, the hike will be the first such revision in more than a decade and cover nearly 30,000 teachers in central universities and over four lakh in state varsities and colleges.
The panel has suggested that the new salaries be paid with retrospective effect from January 2016. The UGC cleared the report without changes.
According to the recommendations, a teacher's starting package will be revised by a multiplier of 2.72, applied to the basic salary and another component called academic grade pay (AGP).
For instance, a directly recruited professor who gets around Rs 43,000 as basic salary, Rs 10,000 as AGP and dearness allowance now will be entitled to a basic salary of Rs 1.44 lakh which would subsume the present dearness allowance.
The Seventh Pay Commission, whose report was accepted last year for civil servants and other central staff, had used the 2.72 multiplier.
The last revision for teachers in 2006 had put their package higher than that of civil servants at the entry level. Teachers may continue to retain the edge even under the revised structure, sources said.
Furqan Qamar, the secretary-general of the Association of Indian Universities (AIU), said university and college salaries had been kept higher to attract talent.
On promotions, the current determinants are indicators like teaching and research output. The UGC panel, headed by Prof. V.S. Chauhan, has suggested that more stress be laid on quality research, such as papers published in reputable journals, the sources said.
The UGC has forwarded to all central universities a finance ministry order suggesting the Centre will bear no more than 70 per cent of the additional expenses arising out of the revised pay. This order covers autonomous institutions, including central universities.
The higher education regulator has asked the 40-odd central universities to specify how much internal resources they can generate, indicating the possibility of a hike in tuition fees.
The new pay proposals are not binding on state universities, which have to fund the higher salaries from their own resources. But they have usually adopted such suggestions in the past.
The Union HRD ministry has set up a separate committee for salary revision of teachers in technical institutions like the IITs and the IIMs.