Strengthening of IT Cadre of Indian Railway
RBA 116/2018
GOVERNMENT OF INDIA
MINISTRY OF RAILWAY
(RAILWAY BOARD)
No 2017/AC-II/37/9,
Rail Bhavan, New Delhi-110001 31/10/18
Principal Financial Adviser,
(All Zonal Railways &Production Units)
Sub:- Strengthening of IT Cadre of Indian Railway.
Please connect Board's letter no. 2016/AC-II(CC)/37/9 dated 18/4/17 & 29/12/17 wherein instructions regarding restructuring of Group C categories of Senior Engineer(IT)
and Junior Engineer (IT) in the percentage of 67:33 respectively have been circulated to
Railways & Production Units. As stipulated in the letter ibid the restructuring is to be
implemented with reference to the cadre strength in operation as on 1/4/2017 and the posts
of Senior Engineer (IT) and Junior Engineer (IT) not in Operation as on 1/4/17 are to be
treated as deemed to have been surrendered.
The matter has been examined further and it is requested to maintain expenditure
neutrality while dealing with the proposal relating to strengthening IT cadre and
restructuring of the IT Cadre on the Railway.
(G. Kabui)
Director Finance/CCA
Railway Board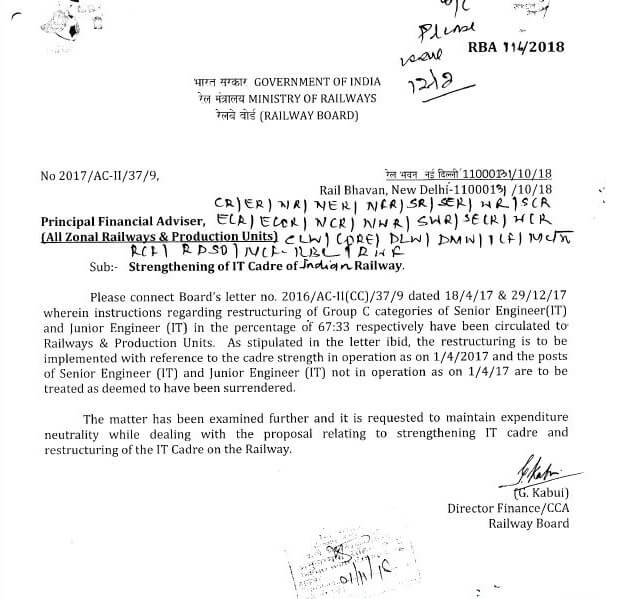 Source: Click here to view/download the PDF
[http://www.indianrailways.gov.in/railwayboard/uploads/directorate/accounts/downloads/Compendium_2018/rba%20116_31102018.pdf]