Procedure for processing of 64KB ECHS application in case of Marital Discord
Central Organisation ECHS
Adjutant General's Branch
Integrated Headquarters of
MoD (Army), Thimayya Marg,
Near Gopinath Circle,
Delhi Cantt- 110 010
B/49711-NewSmartCard/AG/ECHS
18 Jul 2019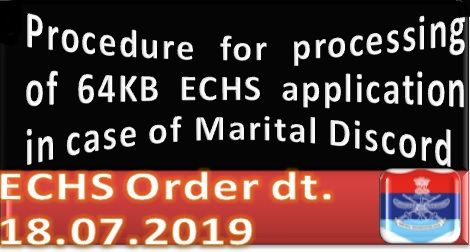 Air HQ PD (DAV)
PD (Navy)
All Comd HQ's (A/ECHS)
AMA ECHS, Embassy of India, Nepal
Director General Indian Coast Guard
Director General NCC
Director General SFF
ADG TA/TA-3
All Regional Centres, ECHS
PROCEDURE FOR PROCESSING OF 64 KB ECHS APPLICATION IN CASE OF MARITAL DISCORD
1. Please refer to Central organization letter No. B/49701-PR/AG/ECHS/2018 dated 26 Sep 18 (copy enclosed).
2. A number of Petitions are received from the Spouses of Veterans where the Primary beneficiary has not applied for the new 64 kb ECHS Card due to marital discord. The procedure to be followed for marital discord cases to apply for new 64kb ECHS Card is given in succeeding Paras.
Eligibility
3. As per Para 2 of letter under reference judicially separated wife of the Veteran is eligible to apply for ECHS Card for a limited period of one year or till resolution /divorce whichever is earlier. The same will be renewed in case of status quo beyond a year.
Offline Procedure
4. Action by the spouse _ (Judicially separated wife). The spouse will take following actions:-
(a) The spouse will be eligible to apply offline for ECHS membership on production of all supporting documents for eligibility.
(b) On the basis of ibid Provision, the spouse should apply to DIAV for Army, DESA for Navy and DAV for Air Force who will facilitate in obtaining a copy of PPO from respective Record Offices. The application should be duly supported with an identity proof in the form of Aadhar Card, Pan Card, Ration Card, Marriage Part I] Order and Dependent Card issued by District Soldier Board. DIAV/DESA/DAV will endorse a letter to the primary beneficiary to give him/her an opportunity to apply Cards for himself/herself within 30 days for eligible family members. In case of non receipt of reply within 30 days/refusal to apply, DIAV/DESA/DAV will obtain copy of PPO for the applicant.
(c) Having obtained the copy of the PPO, the spouse should apply to Central Organization, ECHS (Ops & Coord Section) with all the supporting documents.
Action by Central Organization ECHS (Ops & Coord Section)
5. On receipt of the application CO, ECHS will forward the application for verification to DIAV/DESA/DAV to verify and confirm that the case is a marital discord case. On receipt of confirmation from DIAV/DESA/DAV, Dir (Ops & Coord) will authorize the spouse to apply online 64 kb ECHS Card. A letter of authorisation will be issued to the spouse to this affect.
Action by the Spouse
6. The Spouse will access the ECHS website and login as marital discord case and an application no with prefix MD will be allotted to the beneficiary. After filing the application and uploading the following documents the beneficiary will submit the application:-
(a) Copy of PPO.
(b) Photo for self.
(c) Signature self.
(d) Approval form from CO, ECHS.
Verification
7. The application will be verified by respective records and then by CO, ECHS. On successful completion of verification the Cards will be printed.
Collection of Cards
8. The Cards once printed will be forwarded to the Station Headquarters of the affiliated parent polyclinic. Once the cards are ready for collection a SMS with OTP will be forwarded to the Registered mobile No.
Action by the Veteran
9. The application filled by the Spouse as a marital discord case will be visible to the primary beneficiary as it will get attached to his online application. If the Veteran for some reason has till date not applied for the new 64 kb ECHS Card then as and when he/she submits online application then the earlier application of spouse as a marital discord case will get allowed to his/her application and will be visible to him/her.
10. As and when the divorce Proceedings are finalized and or for some reason the spouse is no more eligible for ECHS membership then the Veteran (Primary Beneficiary) will inform to CO, ECHS.
11. The CO, ECHS will seek written confirmation through DIAV/DESA/DAV and on receipt of confirmation authorize the primary beneficiary to block the card of the spouse (MD Case) and also the spouse will be informed by CO, ECHS with copy to DIAV/DESA/ DAV.
(Rakesh Kakar)
Col (Retd)
Jt Dir (Stats & Automation)
for MD ECHS