Guidelines to all Departments undertaking to Review the Service Rules of the Employees so as to Terminate the Services of Corrupt Employees
(a) & (b)  The provisions under Fundamental Rules (FR) 56(j), Rule 48 of Central Civil Services (CCS) (Pension) Rules, 1972 and Rule 16(3) (Amended) of All India Services (Death- cum-Retirement Benefits) [AIS (DCRB)] Rules, 1958 have laid down the policy of periodic review and premature retirement of Government servants in public interest. This is a continuous process.
(c)  As per the information/data uploaded by the different Ministries/Departments/Cadre Controlling Authorities (CCAs) on Probity Portal followed by the rectification requests made by some Ministries/ Departments/CCAs, during the period from July, 2014 to October, 2019 (as on 25.11.2019), provisions of FR 56(j)/similar rules have been invoked against a total number of 117 Group 'A' officers and 126 Group 'B' officers of different Ministries/Departments.
(d)  The same retirement benefits are admissible to these persons as applicable to Government employees upon retirement on normal age of superannuation.
The above statement was submitted by Ministry of Personnel, Public Grievances and Pensions Department of Personnel & Training of undermentioned Lok Sabha Question:-
GOVERNMENT OF INDIA
MINISTRY OF PERSONNEL, PUBLIC GRIEVANCES AND PENSIONS
(DEPARTMENT OF PERSONNEL & TRAINING)
LOK SABHA
UNSTARRED QUESTION NO. 3873                                                                                                                           (TO BE ANSWERED ON 11.12.2019)
GUIDELINES AND TERMINATION OF CORRUPT EMPLOYEES
3873. SHRI KANAKMAL KATARA
Will the PRIME MINISTER be pleased to state:
(a) whether the Government has issued guidelines to all the departments, banks, public sector undertakings to review the service rules of the employees so as to terminate the services of corrupt employees;
(b) if so, the details thereof;
(c) the names of the departments along with the number of employees who have been given compulsory retirement during the last six months; and
(d) whether the retirement benefits package, gratuity/PF, etc. are payable to such employees?
ANSWER
MINISTER OF STATE IN THE MINISTRY OF PERSONNEL, PUBLIC GRIEVANCES AND PENSIONS
AND MINISTER OF STATE IN THE PRIME MINISTER'S OFFICE
(DR. JITENDRA SINGH)
As above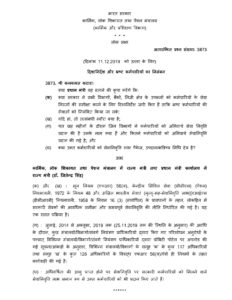 Source: Lok Sabha