Laptop reimbursement : Simplification of the procedure for Probationary officers – Railway Board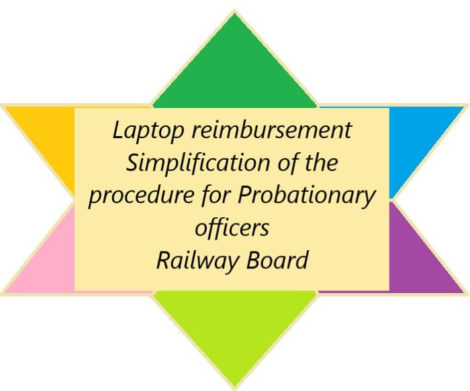 GOVERNEMENT OF INDIA (BHARAT SARKAR)
MINISTRY OF RAILWAYS (RAIL MANTRALAYA)
(RAILWAY BOARD)
No. 2011/C&IS/Committee/Laptop/Pt-ll                                                                                                                                             New Delhi: 19-12-2019
The Director General,
NAIR/Vadodara.
The Directors,
IRIEEN, Pune
IRIEEN, Nasik Road
IRIMEE, Jamalpur
IRISET, Secunderabad
IRITM, Lucknow
IRIFM,Secunderbad
JR RPF Academy, Lucknow
Sub: – Simplification of the procedure of Laptop reimbursement for Probationary officers of Group 'A' Railway Services under training at Centralized Training Institutes.
Ref:- 1) Director General/NAIR's Letter No. NAIR/CCD/AFP 01-03/19 dated 01.07.19
2) Laptop Policy letter No.2011/C&IS/Committee/Laptops/Pt-ll dated 23.01.2012
3) Transformation Cell's Letter no.2018/Transf.Cell/Mech/Misc dated 02-01-2019
1. As per the existing policy, the Probationary Officers are provided laptop by the concerned CTI costing upto Rs.25,000/- each (Rupees  Twenty Five Thousand only). Cumulative expenditure incurred over repairs and maintenance activity carried out over the entire codal life of the Laptop, upto Rs.20000/-(Rupees Twenty Thousand only) is borne by the Railways.
2.Board (MT & FC) has approved further simplification of the process of procurement and reimbursement of Laptops for Probationary Officers. As per the simplified procedure, the Probationary officers can procure the Laptop themselves by clubbing the cost of laptop  and cost of repair/maintenance over the specified life of the machine and the total amount can be claimed for reimbursement of the same through single invoice subject to the terms and conditions as well as monetary limits laid down in the laptop policy letter dated 23/01/2012.
3. This issue with concurrence of the Finance Directorate of Ministry of Railways.
4. Please acknowledge receipt.
(Rajnesh Singh
Director M.E. (C&IS)
Railway Board
No.2011/C&IS/Committee/Laptop/Pt-II                                                                                                                                             New Delhi, 19-12-2019
Copy forwarded for information to:
i) Director General of Audit, Northern Railway, New Delhi
ii) Deputy Comptroller & Auditor General of India (Railways),R No.224, Rail Bhawan, New Delhi
iii) PFA, Concerned Railways.
For Financial Commissioner,Railways
Copy forwarded to :– F(X)-II, Accounts and Budget Branches of Railway Board.
Source: Railway Board