Subletting of Allocated Quarters Regarding Action taken by DRMs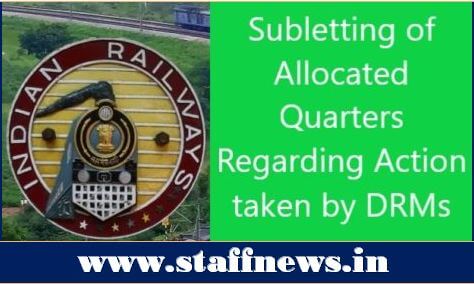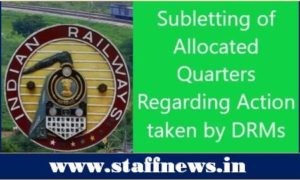 भारत सरकार GOVERNMENT OF INDIA
रेल मंत्रालय MINISTRY OF RAILWAYS
रेलवे बोर्ड RAILWAY BOARD
No. E(C) 2019 RN 2-13
New Delhi, Dated: 08.01.2020
The General Managers
All Indian Railways PSUs
Sub: Action to be taken by DRMs regarding subletting of allocated quarters.
Railway accommodation allotted to a Railway servant is meant only for his/ her bona-fide use and cannot be used for any purpose other than residence.
2. No Railway servant shall sublet, lease or otherwise allow occupation of Government accommodation which has been allotted to him by any other person.
3. In this connection, Board has decided as under:
"All DRMs to take immediate disciplinary action against those who have subleted their allocated quarter. DRMs should ensure all subleted quarters have been vacated in one month's time."
4.   All the Zonal Railways are requested to take immediate necessary action for cancellation of such allotments and initiating of disciplinary action against such Railway' employees.
5.  A feedback on above action in this regard may please be sent to Board office by 17.02.2020.
(Anita Gautam)
Director Estt.(G)
Railway Board.