CGEGIS Table for the period from 01.01.2020 to 31.03.2020 – Corrigendum to DoE OM dated 04.02.2020
No. 7(2)/EV/2016
Government of India
Ministry of Finance
Department of Expenditure
New Delhi, the 12th February, 2020
CORRIGENDUM
Sub: Central Government Employees Group Insurance Scheme-1980 – Tables of Benefits for the savings fund for the period from 01.01.2020 to 31.03.2020.
Reference is invited to this Department's OM of even no. dated 04.02.2020, on the subject cited above and to say that the para 3 of the said OM may be read as under:
"In their application to the employees of Indian Audit & Accounts Department, these orders are issued after consultation with the Comptroller and Auditor General of India, as mandated under Article 148(5) of the Constitution".
2. Hindi version is attached.
(Amar Nath Singh)
Director
Click here to view DoE OM No.7(2)/EV/2016 
To
All Ministries/Department of the Central Government as per standard list.

Copy with spare copies for information and necessary action to C&AG, UPSC, all State Government etc. as per standard list.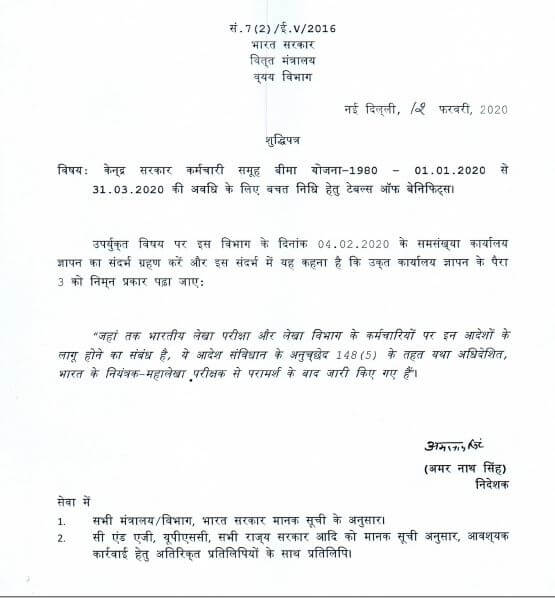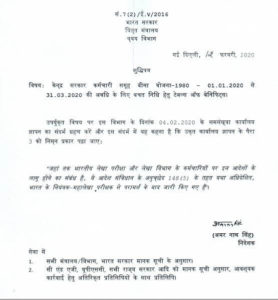 Source: Click here to view/download the PDF
[https://doe.gov.in/sites/default/files/CORRIGENDUM_CGEGIS%20Table_0.pdf]