Aadhar Enabled Biometric Attendance System with CCTV Camera – Status should be accessible by DRM & Railway Board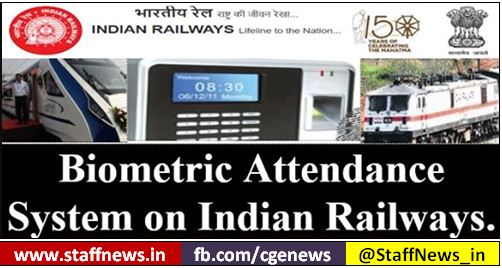 भारत सरकार/GOVERNMENT OF INDIA
रेल मंत्रालय/MINISTRY OF RAILWAYS
रेलवे बोर्ड/ RAILWAY BOARD
No. E(G)2020/LE/1 – 1
New Delhi, Dated: 04.02.2020
The General Manager (P)
All Zonal Railways & Production units
(As per Standard list)
Sub: Biometric Attendance System on Indian Railways.
Detailed instructions were issued vide Board's letter No. E(G)2014/LE 1-27 dated 30.12.2014 regarding introduction of "Aadhar Enabled Biometric Attendance
System" (AEBAS) on Indian Railways. In terms of these instructions, in the first phase, the staff working in the Zonal Headquarters Office, Administrative office of Production Units, RDSO/Lucknow, Metro Rail/Kolkata, CORE/Allahabad and Divisional Headquarter offices which do not fall under the shift duty roster were to be covered.
2. In terms of the Board's letter No. E(G)2017/LE 1-34 dated 03.11.2017, instructions were issued that the AEBAS should. be implemented in all the offices of the Railways including PUs, attached and subordinate offices etc. by 31st January, 2018. AEBAS should be integrated and implemented in such a way that status of biometric machines and attendance at divisional/Unit level should be accessible by DRM office. Similarly, all DRM offices be integrated with Zonal Railways and all the Zonal Railways with Railway Board so that monitoring of attendance of any location can be done by Railway Board. CCTV cameras should also be provided with the Biometric machine in similar fashion.
3. Strict compliance of extant instructions (Board's letter No. E(G)2014/LE 1-27
dated 30.12.2014 & No. E(G)2017/LE 1-34 dated 03.11.2017) is solicited from all concerned. All the Zonal Railways should issue suitable directions for compliance of these instructions by the staff working under their control.
(Anita Gautam)
Director Estt.(General)
Railway Board
Source: Click here to view/download the PDF
http://www.indianrailways.gov.in/railwayboard/uploads/directorate/establishment/eg/2020/BAS_040220.pdf