Pay Scale of Executives and Supervisors in National Hydroelectric Power Corporation
GOVERNMENT OF INDIA
MINISTRY OF POWER
LOK SABHA
UNSTARRED QUESTION NO.867
ANSWERED ON 06.02.2020
PAY SCALE ANOMALIES IN NHPC
SHRI SANTOSH KUMAR
Will the Minister of POWER be pleased to state:
(a) whether there are anomalies in the implementation of pay scale of Executives and Supervisors in National Hydroelectric Power Corporation (NHPC) under the Ministry w.e.f. 01.01.1997;
(b) if so, the details thereof and the reasons there for along with the redressal thereof; and
(c) the remedial measures being taken by the Government to remove the said anomalies?
A N S W E R
THE MINISTER OF STATE (INDEPENDENT CHARGE) FOR POWER, NEW & RENEWABLE ENERGY AND THE MINISTER OF STATE FOR SKILL DEVELOPMENT & ENTREPRENEURSHIP
( SHRI R.K. SINGH)
(a) to (c)  Government has approved the proposal to regularize the pay scales of below Board level Executives in NHPC Ltd. w.e.f 01.01.1997 adopted by them in pursuance of the orders of Ministry of Power dated 04.04.2006 (Annexure-I). NHPC Ltd was accordingly directed to implement the decision vide Ministry of
Power's letter dated 29.01.2019 (Annexure-II). NHPC Ltd. has implemented the decision of the Government vide NHPC's office order dated 19.03.2019, thereby removing pay anomalies.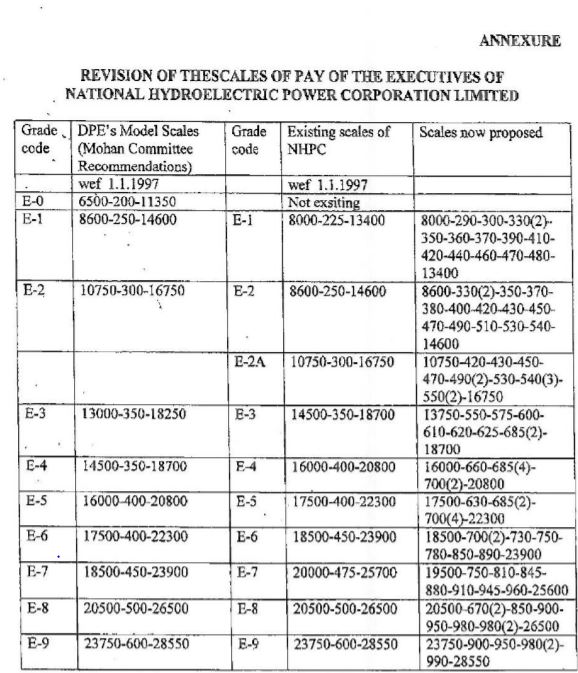 Source: http://164.100.24.220/loksabhaquestions/annex/173/AU867.pdf