Reporting of Officials in Board's Office during lockdown period: Railway Board OO No. 30 of 2020
भारत सरकार GOVERNMENT OF INDIA
रेल मंत्रालय MINISTRY OF RAILWAYS
रेलवे बोर्ड (RAILWAY BOARD)
Office Order No. 30 of 2020
Sub: Reporting of Officials in Board's Office during lockdown period
Enclosed is a copy of DOP&T's OM No.11013/9/2014-Esttt.A-IIT dated 23.04.2020 regarding attendance of Officers/Staff during the lockdown period.
2. Attention in this connection is invited to para 3 of Office Order No. 25 of 2020 and also para 2 of DOP&T's enclosed OM for following the extant instructions in letter and spirit. While preparing the roster/asking Officials below Deputy Secretary level for reporting to Office, the guiding principle should be that only upto 33% Officials and depending on the requirement be called for working from Office and all others who are not being called at Office or are residing at Containment Zones should work from home and be available at all times on Mobile phones and other Electronic means of Communications. Officials below Deputy Secretary level should not regularly be called to avoid crowding in the Office, except in case of exigencies of work.
3. Further, Officials may be called at staggered timings as stated in pata 3 of the enclosed DOPT's OM.
4. Based on above, if required, separate rosters may be prepared by all controlling Head of the Directorates (PEDs & EDs).
(B. Majumdar)
Joint Secretary/Railway Board
No. 2020/O0&M/9/1
Dated:- 24.04.2020
Encl.- DoPT OM dated 23.04.2020 on COVID-19 Lockdown-2 attendance reg 33% staff below Deputy Secretary Rank
All Officers and Staff of Board's Office/Metro Bhawan, Pragati Maidan and at Dayabasti,New Delhi
Copy to:- PEDs & EDs (for revising the roster with staggered timings)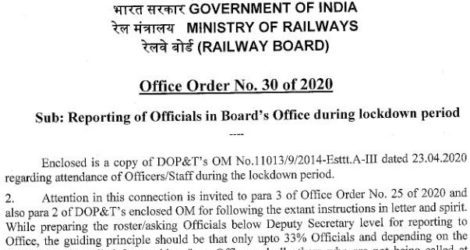 Reporting of Officials in during lockdown period: Railway Board OO No. 30 of 2020
Source: http://www.indianrailways.gov.in/railwayboard/uploads/directorate/secretary_branches/Office_Order_2020/OO_30_20.pdf