Implementation of e-Office over Zonal Railways and record storage
GOVERNMENT OF INDIA
MINISTRY OF RAILWAYS
RAILWAY BOARD
No. 2020/Tele Dev/e-office implementation
Dated: 01.07.2020
TELECOM CIRCULAR No. 08/2020
The General Managers, All Indian Railways/PUs, NF/Con., CORE,
The DG/RDSO/Lucknow, DG/NAIR/Vadodara
CAOs, DMW/Patiala, WPO/Patna, COFMOW/NDLS, RWP/Bela, CAO/IROAF
CMD/RailTel
Sub: Implementation of e-Office over Zonal Railways and record storage
Ref: (i) Item 6(ii) of items for improvement of operational efficiency
(ii) Railway Board's letter No. 2020/Tele Dev/ e-office implementation dated: 12.05.2020.
(iii) Railway Board's letter No-E(G)2017/Misc/Status of AEBAS dated 04.10.2018
With reference to Railway Board's letter at (ii) & (iii) above and Item No. 6 (ii) (Data storage in Microchips/Cloud, Files to be out of offices) for improvement of operational efficiency of IR, Board (MST, FC & CRB) have approved the followings:
1. Digitisation of all physical records and uploading on e-office platform, except
D&AR, Vigilance, Court Cases and Top Secret/Secret Files/Cases.
2. All files (Active/Closed/Legacy) are to be scanned along with their respective Notes, Receipts, Issues, and References and to be uploaded onto e-Office platform. New file name may be given as per e-Office file heading system while creating the corresponding e-File and existing file number/name/description may be entered as it is, in the description section. This will help in retaining the existing physical file name/number/description to maintain continuity as well as in searching the file either with new nomenclature or with old one.
3. All Notes, Correspondences (Receipts/Issues), References are scanned and saved in pdf format as:
3.1. All Notes are scanned into a single pdf, if possible. Otherwise notes can be scanned one by one.
3.2. All the correspondences (Receipts/Issues) should be scanned, one at a time, as a single pdf.
3.3. All the References should be scanned one at a time, as a single pdf.
3.4. All the Issues should be scanned one at a time, as a single pdf.
4. RailTel will train the officials in the process and hand hold in the digitisation and uploading/storage of records on e-Office database under Implementation of e-office over Zonal Railways projects.
5. The e-Office operation and storage as planned in Data Centre (DC)- Data Recovery (DR) format will have minimum delay in operation and it should the tested by RailTel regularly and documented.
6. Security of records is now extremely important. All the security protocols as envisaged by NIC for e-Office application will be followed by RailTel at Data Centres and as administrator. An independent auditing will be carried out by RailTel from NIC to proofread the complete DC-DR infrastructure in its safety, security, sufficiency, expandability and reliability aspects. RailTel will submit the report by 31.07.2020.
7. To begin with, One Zonal HQ (SCR) and one division of SCR & Trichy Division of SR will start and standardize the steps and complete the work of digitization of physical record and uploading on e-Office database by July 31, 2020. Based on the experience gained, it will be rolled out on remaining units up to 31.11.2020.
8. To monitor the file digitization and uploading process through e-office Dashboard, RailTel will operationalise the same by July 31, 2020.
Kindly acknowledge the receipt and ensure compliance.
(Umesh Balonda)
Executive Director(Tele Dev)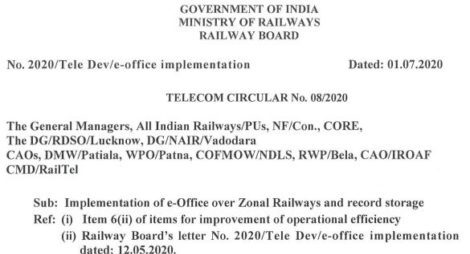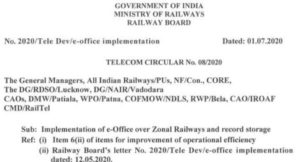 Source: Railway Board
[http://www.indianrailways.gov.in/railwayboard/uploads/directorate/Transformation_Cell/Circulars/2020/e-Office%20letter%20dated%2001_07_2020.pdf]