Railway Minister's Welfare and Relief Fund (RMW&RF): Constitution, approved yardstick for grant of financial assistance and prescribed proforma
Government of India
Ministry of Railways
(Railway Board)
No. E(W)2003/FU-4/1
New Delhi, dated I.08.2020
The General Managers,
All Indian Railways & PUs
Sub: Financial Assistance from Railway Minister's Welfare and Relief Fund (RMW&RF)
As you are aware, Railway Minister's Welfare & Relief Fund has been constituted since long for providing financial assistance to Railway servants and their families in distress, such as arising from natural calamities, prolonged illness, sudden death etc., in deserving cases. A copy the Constitution of the RMW&RF (Annexure-A) and approved yardstick for grant of financial assistance (Annexure­ B) are enclosed.
2. In view of the fact, that the officers and staff in the Railways may not be completely aware of the provisions for financial relief available in the Fund, it is requested to give wide publicity to the Scheme by deputing Welfare Inspectors and to recommend deserving cases in the prescribed proforma (Annexure-C).
3. Suggestions, if any, to enhance the usefulness of the Fund may also be sent to the undersigned.
DA: As above
(Ashutosh Garg)
Dy. Director/Estt.(W elfare)II
Railway Board
Annexure-A
CONSTITUTION
(RAILWAY MINISTER'S WELFARE AND RELIEF FUND)
1. The Fund shall be known as the Railway Minister's Welfare & Relief Fund for Railway Servants and their families. The Minister for Railways will be patron­ in-chief of the same.
2. The source of the Fund shall be :-
(i) Voluntary donations by Railway Servants;
(ii) Donations made by other individuals, institutions or organizations etc.;
(iii) Proceeds from special charity shows such as dramas, cinema shows, fetes, games etc.;
(iv) Collections voluntarily made on special occasions as during Railway Week.
3. The objectives of the Fund are:-
(i) To afford relief to Railway Servants and their families in distress, such as arising from natural calamities, prolonged illness, sudden death etc.;
(ii) To provide relief to institutions run by Railway Servants in the form of grants to overcome financial difficulties;
(iii) To provide financial assistance in deserving cases as adjudged by the Railway Minister.
4. The day-to-day management of the Fund shall be administered by a Committee consisting of :-
(i) Secretary, Railway Board (ex-officio Chairman).
(ii) Executive Director Health (General)
(iii) Executive Director, Pay Commission -1
(iv) Executive Director Finance (Establishment) (ex-officio Treasurer)
(v) Director, Estt. (Welfare) (ex-officio Secretary)
5. Bankers
The State Bank of India shall be the banker. All Cheques for disbursement shall be signed jointly by the Treasurer and the Secretary.
6. Accounts
A monthly statement of accounts shall be prepared by the Secretary and Treasurer and put up to the Committee and the Railway Minister periodically.
7. Audit
The accounts of the Ftmd shall be audited armually by an Auditor appointed by the Committee.
8. The Managing Committee may invest the proceeds of the Fund:-
(i) In the State Bank of India or such other Nationalized Banks as the Committee may decide; and
(ii) In fixed deposits with Government Companies as defined in the Companies Act.
**'*
Annexure-B
Yardstick for grant of relief under Railway Minister's Welfare and Relief Fund
| | | |
| --- | --- | --- |
| S.No. | Heads of expenditure | Amount of financial assistance |
| 1. | Premature death of Railway men | A maximum of Rs.1.5 lakhs provided the employee is not covered under the workmen's Compensation Act or other statutory obligations and where appointment on compassionate grounds to the widow or dependents of the deceased employee could not be given due to illiteracy or otherwise, within a reasonable time depending on merits of each case. |
| 2. | Railway men murdered or killed on duty or in an accident | A maximum of Rs.3 lakhs subject to the condition that on duty or in an accident no compensation is payable under the Workmen's Compensation Act or other statutory obligations. |
| 3. | Self sickness of Railway Servants or their dependents (including father) | A maximum of Rs. l lakh |
| 4. | Employees affected by natural | A maximum of Rs. 25 lakhs may be given to the Railway administrations as lump sum, depending upon the nature, extent and intensity of the calamity/damage caused by fire, cyclone, flood, earthquake etc., and on the merits of each case. |
| 5. | Victims of crime against women | Amount to be decided by the Managing Committee |
| 6. | Miscellaneous (depending on the merit of the case) | Amount to be decided by the Managing Committee |
Other terms and conditions of the Scheme are as follows:
.(i) All cases for assistance from the Fund should be sponsored by the Railway Administration concerned, together with their recommendations in the prescribed form (Annexure-C) along with a certificate from the Railway Medical Authorities as considered necessary;
(ii) The Railway Administrations should ensure that the amount sanctioned by the Managing Committee of the Fund is given to the employee or (where deceased) his/her dependents concerned, with utmost expediency and utilization certificate for the amount received from the employee/dependent, as the case may be, is furnished to the Board;
(iii) No financial assistance shall be given to retired Railway employees.
(iv) The claim for financial assistance should ideally be preferred by the family of deceased employees within one year from the date of death of the employee.
(v) No part of the F1md can be given to a non-Railway person or body.
(vi) Cases, where financial assistance beyond the prescribed monetary ceiling limits is justified and warranted, will be submitted to Minister of Railways with the recommendations of the Committee for his approval.
***
Annexure-C
FORM FOR FINANCIAL ASSISTANCE FROM RAILWAY MINISTER'S WELFARE & RELIEF FUND
General Instructions:
(I) All cases are to be sponsored by the Railway Administration concerned.
(II) Enclose photocopy each of the bills, in cases where expenditure has been incurred for treatment.
(III) No columns should be left unfilled.
(IV) Do not send cases seeking assistance for purchase of motorised tri-cycle by handicapped employees. Such cases should be considered by Railway for grant of self loan as per extant provisions
1.
Name of the Employee
2.
Designation and office where working
3.
Date of Appointment
4.
Age at the time of application
5.
Pay Level & Present salary/salary on the date of death, if deceased
6.
Purpose for which assistance is required
7.

In case assistance is required for treatment of cancer or open heart surgery, following information may be furnished:-
(i)
Nature of Sickness
(ii)
Since when suffering
8.

(a)
Expenditure incurred/anticipated on treatment/operation/purchase of medicines etc.
(b)
Amount reimbursed or reimbursable as per rules
(c)
Incidental expenditure involved m treatment
(d)
Relief, if any, given from SBF/RWCO etc.
9.
In case assistance if required by the widow/survivors, the employee having died, following further details be supplied
 (i)
Date of death
 (ii)
Age at the time of death
 (iii)
Cause of death
 (iv)
No. of dependents with their ages, relationships to the employee, whether employed or not
 (v)
Whether PF optee/Pension optee
 (vi)
If pension optee, amount of pension sanctioned to the family
 (vii)
Amount of settlement dues payable/paid
(a) P.F.
(b) DCR
(c) DLIS
(d) GIS
(e) Leave Encashment
(f) Ex-Gratia
(g) Miscellaneous
Total
 (viii)
Details of compassionate appointment, if any, applied for/ offerred to the widow/family member
(a) Date of application received
(b) Date on which appointed
(c) Post & Pay Level offered
10
Relief granted from
(i)
Staff Benefit Fund
(ii)
Under Worlanen's Compensation Act (if the employee was injured/died on duty and no compensation has been paid reasons for the same should be indicated)
12
Recommendations of the Railway Administration and medical authorities (particularly for items 7 and 8)
13.
The following certificate should be furnished
(i)
Certified that the · employee has received reimbursement of Rs, …. and a further claim of Rs…. is due to him/no further reimbursement claim is pending
(ii)
Also certified that the relief recommended is in respect of incidental expenditure for which no bills/vouchers could be furnished.
(iii)
Certified that relief recommended is in respect of a person who is actually dependent upon the Railway servant
(iv)
Certified that relief from the RMWRF has not been paid to the applicant in the past for the same purpose for which relief is recommended now.
 (v)
Certified that the applicant has received assistance/relief from the following other sources as detailed below:
 (vi)
Certified that dependent (father, mother, brother, sister) has not received any assistance from any Govt. Deptt./Voluntary agency where any other member of joint family may be employed.
Signature …………………..
Name ………………………..
Designation ……………….
Date ………………………….
Source: Click here to view/download the PDF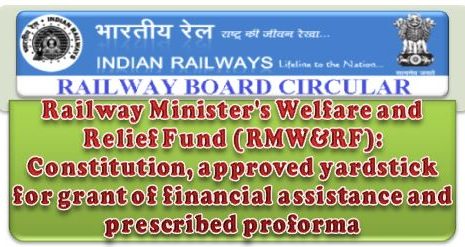 [https://indianrailways.gov.in/railwayboard/uploads/directorate/establishment/E(W)/2020/RMW_RF-revised.pdf]