Celebrating Fit India School Week – 2020 in CBSE affiliated schools: Students, Parents, Staff and Management need to actively participate
CENTRAL BOARD OF SECONDARY EDUCATION
CBSE/DIR.(SE&T)/Fit India/2020
03.11.2020
Circular No. Acad-82/2020
Subject: Celebrating Fit India School Week -2020 in CBSE affiliated schools
As you are aware that on 29th August 2019, the Honorable Prime Minister of India, launched nationwide "Fit India Movement" which was aimed to encourage people to inculcate physical activity and sports in their everyday lives and daily routine.
To take this mission forward, CBSE had communicated to its affiliated schools, vide its circular no. 71/2019 dated 20 Nov. 2019 that each year a total of 06 working days during the THIRD and FOURTH WEEKS in November will be celebrated as "Fit India School Week" in all its affiliated schools. This movement therefore endeavors to alter this behaviour from 'Passive Screen time' to 'Active Field time' and the aim of the objective is to develop Sports Quotient among all the students to achieve a healthy lifestyle. Such movement will also instill the understanding for regular physical activity and higher levels of fitness enhancing in them self-esteem and confidence in the students.
Due to the ongoing pandemic, it has been decided that this year the 2nd edition of the 'Fit India School Week' will be celebrated in the month of December 2020. The proposed set of activities to be undertaken during the Fit India School Week – 2020 are being annexed.
Schools shall ensure that all Students, Parents, Staff and Management shall actively participate in the proposed Fit India School Week celebration. The Schools may create a new page on its website titled "Fit India Movement" and a brief about the activities undertaken and related pictures/videos be uploaded on it. Also, the schools may register on official Fit India Portal and upload report/pictures/ videos at: http://fitindia.gov.in/fit-india-school-week All schools will be recognized in the form of Digital Certificate which they can download from Fit India Portal after the successful conduct of the Fit India School Week.
The celebrations should also be put up on social media with (hashtag) #cbsefitschool.
For queries, email to [email protected] or contact 1800-208-5155.
Dr. Biswajit Saha
Director (Skill Education and Training)
Encl: Annexure – Virtual Activities for Fit India School Week Celebrations 2020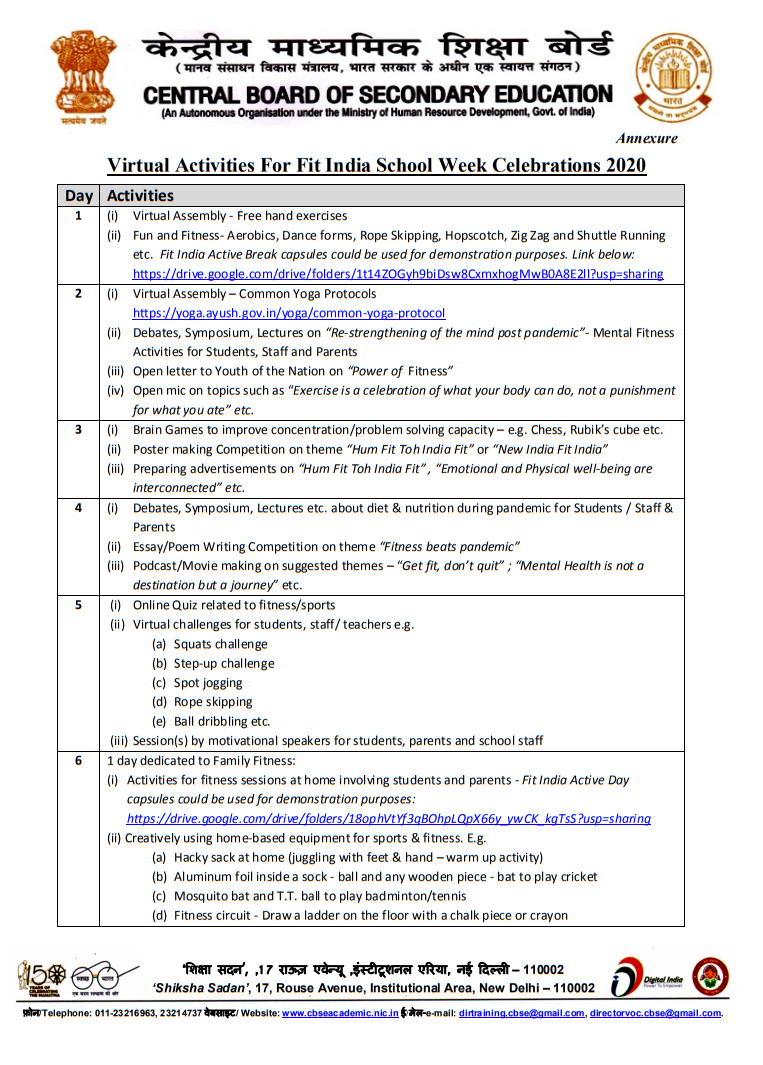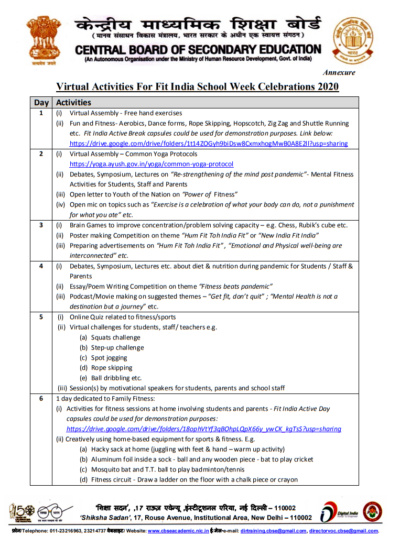 Source: Click Here to view/download the pdf