Preventive Measures to contain the spread of COVID-19 – Carelessness has been viewed Seriously: Railway Board Office Order
भारत सरकार Government of India
रेल मंत्रालय Ministry of Railways
रेलवे बोर्ड (Railway Board)
Office Order No.81 of 2020
Sub: Preventive Measures to contain the spread of COVID-19
Ref: Office Orders No. 22, 45, 66, 68 & 70 of 2020
Attention is invited to above mentioned Office Orders regarding reporting of Officials and measures to contain the spread of COVID-19 amongst Officials in Board's Office.
2. Despite extant instructions following has been observed in Board's Office:-
i) Few Officials are still not wearing mask at all times or wearing it improperly i.e,, not fully covering mouth and nose particularly in corridors & branches;
ii) Staff have been found to idling or without proper physical distancing of one meter;
iii) Group lunch are being taken with colleagues and friends without adhering to proper physical distancing.
iv) Few officials who are having flue like illness ( mild cold/cough or fever) or any family member at residence is suffering from COVID related symptoms or having any COVID positive case at home are reporting to office.
v) Few officials who had tested positive are not reporting to administration about test report, as a result proper sanitization and officials who had come in contact requiring quarantine could not be carried out leading to further increase in spread of virus.
2.1 The above has been viewed seriously.
3, All HODs and Controlling Officers are accordingly advised to issue suitable directive in this regard to all subordinate officials working under their control for strictly adhering to above aspects and extant instructions as referred to in Office Orders indicated above. They may also keep a close watch on staff working under their control. Staff not adhering to extant guidelines be suitably counselled and be brought to the notice of undersigned, Dir/GA, Dir/Admn or US/O&M for appropriate action.
3.1 Any violation of above aspect would be viewed seriously and appropriate disciplinary action as deemed fit would be considered against such officials.
No.2020/0&M/2/7
Dated: 11/11/2020
(B. Majumdar)
Joint Secretary/Railway Board
All Officers & Staff in Board's Office and at Dayavasti New Delhi.
Source: Railway Board Office Order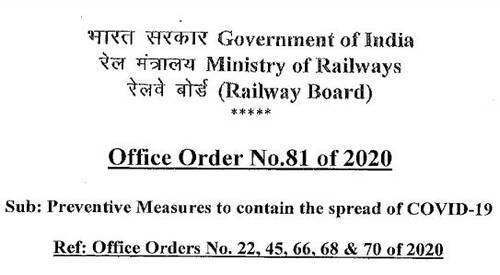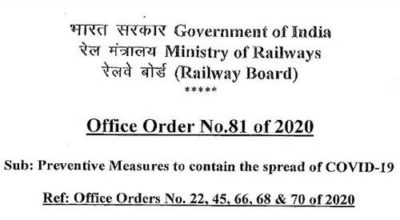 [https://indianrailways.gov.in/railwayboard/uploads/directorate/secretary_branches/Office_Order_2020/OO_81_2020.pdf]