Shifting of Government Responsibility from Ordnance Factories सरकार की आयुध कारखानों की जिम्मेदारी को अंतरित किया जाना
GOVERNMENT OF INDIA
MINISTRY OF DEFENCE
DEPARTMENT OF DEFENCE PRODUCTION
RAJYA SABHA
UNSTARRED QUESTION NO.19
TO BE ANSWERED ON 19th July, 2021
SHIFTING OF GOVERNMENT RESPONSIBILITY FROM ORDNANCE FACTORIES
19 SHRI ANIL DESAI:
Will the Minister of Defence be pleased to state:
(a) whether it 1s a fact that Ordnance factories are working under the direct supervision of Ministry;
(b) the number of factories in this category;
(c) whether Government is considering shifting of ownership/control to some non-Government entities; and
(d) if so, the justification along with the details thereof?
ANSWER
MINISTER OF STATE IN THE MINISTRY OF DEFENCE SHRI AJAY BHATT
(a) Yes, Sir.
(b) There are 41 Ordnance Factories under the aegis of Ordnance Factory Board, Headquartered at Kolkata working as an attached office to Ministry of Defence.
(c) No, Sir. However, to enhance functional autonomy, efficiency and unleash new growth potential and innovation in Ordnance Factories, the Government of India has taken a decision to convert Ordnance Factory Board (OFB) into 100% Government owned seven corporate entities.
(d) Does not arise.
****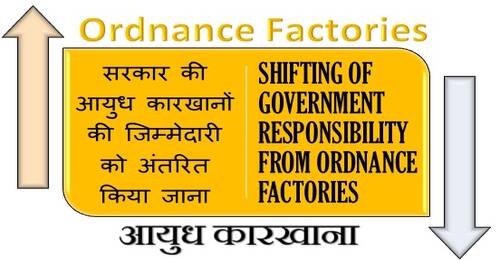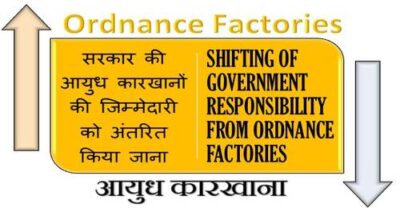 भारत सरकार
रक्षा मंत्रालय
रक्षा उत्पादन विभाग
राज्य सभा
अतारांकित प्रश्न संख्या 19
19 जुलाई, 2021 को उत्तर के लिए
सरकार की आयुध कारखानों की जिम्मेदारी को अंतरित किया जाना
19. श्री अनिल देसाई :
क्या रक्षा मंत्री यह बताने की कृपा करेंगे कि :
(क) क्या यह सच है कि आयुध कारखाने मंत्रालय की प्रत्यक्ष निगरानी के अधीन कार्य कर रहे हैं;
(ख) इन श्रेणी में कितने आयुध कारखाने हैं;
(ग) क्या सरकार इनके स्वामित्व/नियंत्रण को किसी गैर-सरकारी निकायों को सौंपने पर विचार कर रही है; और
(घ) यदि हां, तो इसके ओऔचित्य सहित तत्संबंधी ब्यौरा क्‍या है?
उत्तर
रक्षा मंत्रालय में राज्य मंत्री (श्री अजय भट्ट)
(क): जी, हाँ।
(ख): रक्षा मंत्रालय के एक संबद्ध कार्यालय के रूप में कार्यशील आयुध निर्माणी बोर्ड जिसका मुख्यालय कोलकाता में स्थित है, के तत्वाधान में 41 आयुध निर्माणियां हैं।
(ग): जी, नहीं। तथापि आयुध निर्माणियों में कार्यात्मक स्वायत्तता, दक्षता और नई विकास संभावनाओं तथा नवाचार को बढ़ावा देने के लिए भारत सरकार ने आयुध निर्माणी बोर्ड (ओएफबी) को 100% सरकारी स्वामित्व वाली सात निगमित संस्थाओं में परिवर्तित करने का निर्णय लिया है।
(घ) : प्रश्न नहीं उठता।
****