Inclusion of HRA, Transport Allowance & SFA for the purpose of calculating Overtime Allowance under the Factories Act, 1948: BPMS
Bharatiya Pratiraksha Mazdoor Sangh
(AN ALL INDIA FEDERATION OF DEFENCE WORKERS)
(AN INDUSTRIAL UNIT OF B.M.S.)
(RECOGNISED BY MINISTRY OF DEFENCE, GOVT. OF INDIA)
REF: BPMS / MOD /DDP/ OTA / 43 A(7/2/L)
Dated: 23.10.2021
To,
The Secretary, REMINDER- 4
Department of Defence
Govt of India, Min of Defence,
South Block, DHQ PO
New Delhi — 110110
Subject: Notional Extension of Judicial Pronouncement in favour of similarly placed non-petitioners – Inclusion of HRA, Transport Allowance & SFA for the purpose of calculating Overtime Allowance under the Factories Act, 1948.
Reference: 1. This federation's letter of even No. Dated 15.05.2019, 22.11.2020 & 06.09.2021
2. MoD ID No. 21(7)/2018-D(JCM), Dated 27.07.2018
Respected Sir,
With due regards, your attention is invited to the letter cited under reference (1) on the subject matter (copy enclosed) whereby it has been requested to issue necessary Clarification/ instructions so that disparity amongst the petitioners & non-petitioners civilian employees of Min of Defence may be removed and further litigations may be avoided.
However, due to reluctant attitude of the concerned authorities, the employees of Metal & Steel Factory Ishapore under the aegis of 'MSF Karmachari Sangh, Ishapore' (affiliated to this federation BPMS/BMS) also compelled to approach the CAT Kolkata Bench through O.A. No. 1175/2021 & M.A. No. 378/2021 and received the order (dated 11.08.2021) in their favour.
It is regretfully reminded that the matter is still pending which is causing discontentment amongst the non-petitioner civilian employees of MoD/OFB.
Therefore, you are requested to expedite the matter.
Thanking you.
Sincerely yours
(MUKESH SINGH)
General Secretary/BPMS &
Member, JCM-II Level Council
(MOD)
Copy to: The Under Secretary D(JCM), MoD, New Delhi
– Kindly arrange a meeting with the concerned authorities.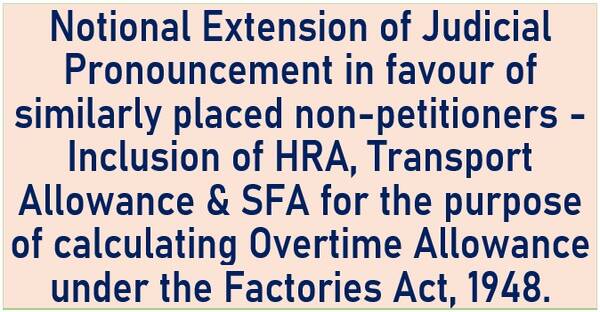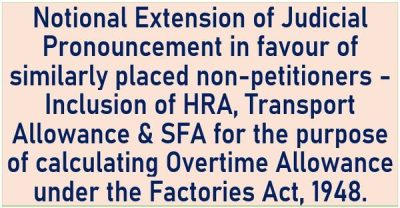 Source: http://bpms.org.in/documents/ota1-lqrf.pdf