Strengthening of the Safety Organization – Provision of round-the-clock vehicle, under administrative control of each Sr. DSO in the Divisions for the use of Safety Control: Railway Board Order
GOVERNMENT OF INDIA
MINISTRY OF RAILWAYS
(RAILWAY BOARD)
No.2017/Safety(DM)/19/1
New Delhi, dated, 07.06.2023
The General Managers,
All Indian Railways.
Sub: Strengthening of the Safety Organization of Indian Railways.
The issue of Strengthening of the safety Organization of Indian. Railways was recently considered by the Board in the meeting held on 17.05.2023, wherein the Board decided that a vehicle should be provided round-the-clock to the Safety Control of the Divisions.
In view of the above, Zonal Railways are advised to take immediate action for providing a round-the-clock vehicle, under administrative control of each Sr. DSO in the Divisions for the use of Safety Control.
(Tej Prakash Agrawal)
ED/Safety
Railway Board
Copy to:
The PCSOs, All Indian Railways for information and necessary action.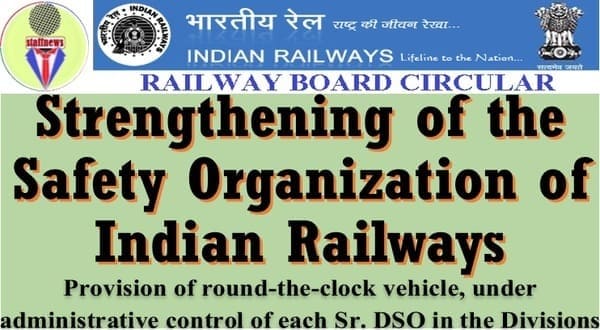 View/Download the PDF