Online reporting of vacancies to Surplus Cell – Request to expedite the actions on RSMS: DoPT OM dated 13.07.2023
F. No. No. 1/2/2022-R&R and DC (E-3171940)
Government of India
Ministry of Personnel, Public Grievances and Pensions
Department of Personnel & Training
3rd Floor, Lok Nayak Bhawan
Khan Market,
New Delhi -110003.
Dated: 13.07.2023
OFFICE MEMORANDUM
Subject: Request to expedite the actions by Nodal Officers of the User Departments/ Offices as per the O.M. of even number dated 21.6.2023- – online reporting of vacancies to Surplus Cell of DOPT under CCS (Redeployment of Surplus Staff) Rules, 1990- regarding.
The undersigned is directed to invite attention to this Department's O.M. of even number Dated 21.6.2023 on the above subject (Copy enclosed). The same delineates directions upon the Nodal Officers, designated for the purpose of taking required actions, consequent upon the launch of the RSMS (Redeployment and Surplus Management System) on 8th June, 2023 by DoP&T. In view of the launch of RSMS, all Ministries/ Departments have been requested to place their requisitions in the matter of reporting the vacancies as per the CCS (Redeployment of Surplus Staff) Rules, 1990, in the online system only, through RSMS.
2. This Department understands that in keeping with the above mentioned O.M. dated 21.6.2023, all Departments/Ministry have issued appropriate instructions to all their Attached / Subordinate /Directorate/ Field Offices/etc., impressing upon them the mandatory requirement to make all their requisitions only online through RSMS.
3, The Redeployment and Surplus Management System (RSMS) (URL: rsms.nic.in) has been developed to facilitate and fast track the processes of seeking Non Availability Certificate (NAC) under the CCS (Redeployment of Surplus Staff) Rules, 1990 from the Surplus Cell of this Department. To underscore and accord its due priority and also towards an expeditious implementation of RSMS, this Department has embarked upon nomination of the Director/Deputy Secretary (Admn.) in each of the Ministry/ Department, as their 'Nodal Officer". A list of Nodal Officers is enclosed.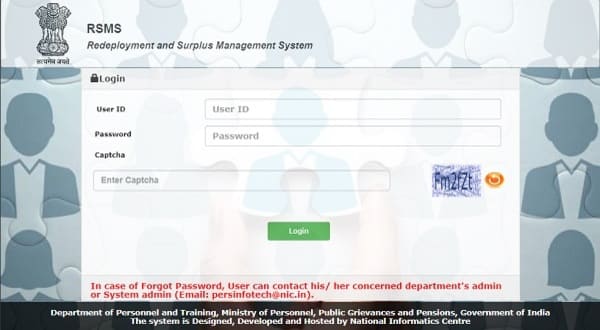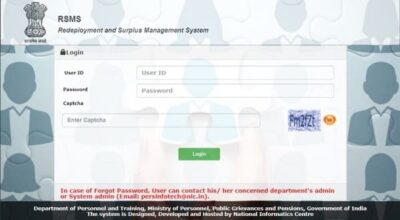 4. The DOPT has already undertaken familiarization/ training on the operation of the RSMS for the Nodal Officers of the Parent Ministries/ Departments/ participants and also provided them with their unique credentials for use of RSMS. Also, a User Manual/ Guidelines its readily available in the above mentioned URL delineating in a simple language as to how to access and use the RSMS.
3. A primary requisite under the RSMS is an immediate endeavour by ALL the Nodal Officers for addition of ALL their concerned Attached/ Subordinate/ Directorate/ Field Offices/ etc., in the RSMS, which are under their administrative control, and also to nominate their individual Nodal Officer(s), create their credentials, etc. for access, operation and use of RSMS for obtaining auto-generated redeployment letter/NOC/NAC, etc. The RSMS has in-built facility/modules for creation of user credentials and for changing of passwords to access and avail the facility.
6. In case of any Technical or Administrative assistance deemed necessary, may seek the same at:
(a) Technical assistance- Technical Officer, NIC, DoP&T by mail-: [email protected] telephone No.011-23040281.
(b) Administrative assistance —Officers and Section (R&R and DC), Email: randr-doptgov.in, Telephone No.011-24651898 / 011-24626024.
7. Accordingly, it is hereby reiterated and impressed upon All Nodal Officers in the Ministry/Department that they must accord due emphasis in the matter and take prompt actions to add ALL their concerned Attached / Subordinate /Directorate/ Field Offices/etc. under their administrative control in the RSMS. This is a mandatory and vital action on partof ALL the Nodal Officers in the various Ministries and Departments and as well as an important crucial link to make RSMS vibrant and successful.
Encl: as above.
(S. K. Mandi)
Under Secretary to the Govt. of India
Tele: 011- 24651898
E-mail: us-randr-dopt[at]gov.in
Source: https://dopt.gov.in/sites/default/files/RSMS_OM%20dated%2013_07_2023.pdf