The central government has so far never issued any orders, declaring Sunday as a weekly holiday.
Replying to an RTI application filed by a Jammu-based activist Raman Sharma, the under-secretary in the Department of Personnel and Training (DoPT) stated, that there was no information regarding declaration of Sunday a holiday, which is being observed religiously by the government, private sector and traders as well.
The DoPT reply, however, referred to an order of May 21, 1985 stating that in order to improve the efficiency, the government had to introduce 5-day weeks in its civil administration offices. "Such government offices would now work for five days a week from Monday to Friday, with all Saturdays as closed." Even this order does not officially declare Sunday as holiday.
DoPT Order: No. 13/4/85-JCA dated 21-05-1985: Introduction of 5-day week in the administrative offices of the Government of India.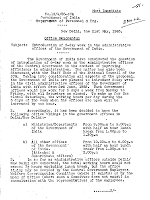 Source DNA