No. 1/20/2011 P&PW (E)
Government of India
Ministry of Personnel, P.G. & Pensions
Department of Pension & Pensioners' Welfare
3rd Floor, Lok Nayak Bhawan,
Khan Market, New Delhi
Dated: 28th January, 2013
OFFICE MEMORANDUM
Sub: Revision of PPO of pre-2006 'pensioners/family pensioners – (i) even if age/date of birth of spouse is not available, (ii) model advertisement for use by Ministries/Departments – regarding.
The undersigned is directed to refer to this Department's OM of even number, dated 16.12.2011, 2.11.2012 and 14.11.2012 and OM No. 1/23/2012-P&PW(E), dated 13.09.2012 and 27.09.2012 on an extremely important issue, Le. revision of the Pension Payment Order (PPOs) of pensioners/family pensioners who retired/died before 2006. The revision has to be done on priority because the pensioners are suffering harassment due to non-revision of their PPOs.
.
,2.
A number of initiatives were taken in the last quarter of 2012 such as allowing change in date of birth of spouse, use of certain documents for revision of PPOs, inclusion of present postal address and mobile and telephone number in the life certificate and use of e-scroll for extracting information from banks' database. In order to further streamline the process, it has been decided to allow revision of PPOs even in those cases where date of birth/age of spouse is not given in the PPO or this information is not available in the office records. Such PPOs may be revised again when age/date of birth becomes available. It has also decided that only live cases in which pension/family pension is being disbursed will be included in the pendency statement of the Central Pension Accounting Office (CPAO) and for this purpose e-scroll alone will be relied upon by the CPAO.
3.
A copy of the advertisement previously circulated to all Ministries/Departments vide this Department's OM of even number, dated 16.12.2011 for use by them for eliciting information from pensioners/family pensioners is enclosed. It is requested that the advertisement may be posted on the website and if desired get it published in the leading. News Papers.
Sd/-
(Sujasha Choudhury)
Deputy Secretary
Source: pensionerportal.gov.in [click here to download]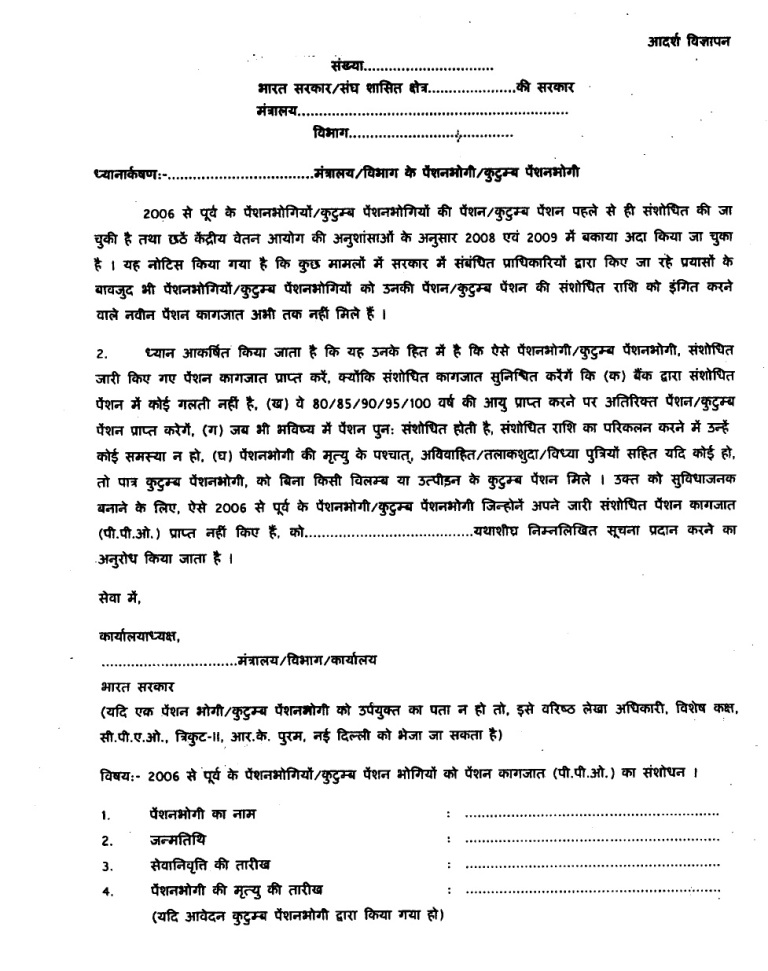 PPO-Pension Revision Advertisement Hindi Form Page 1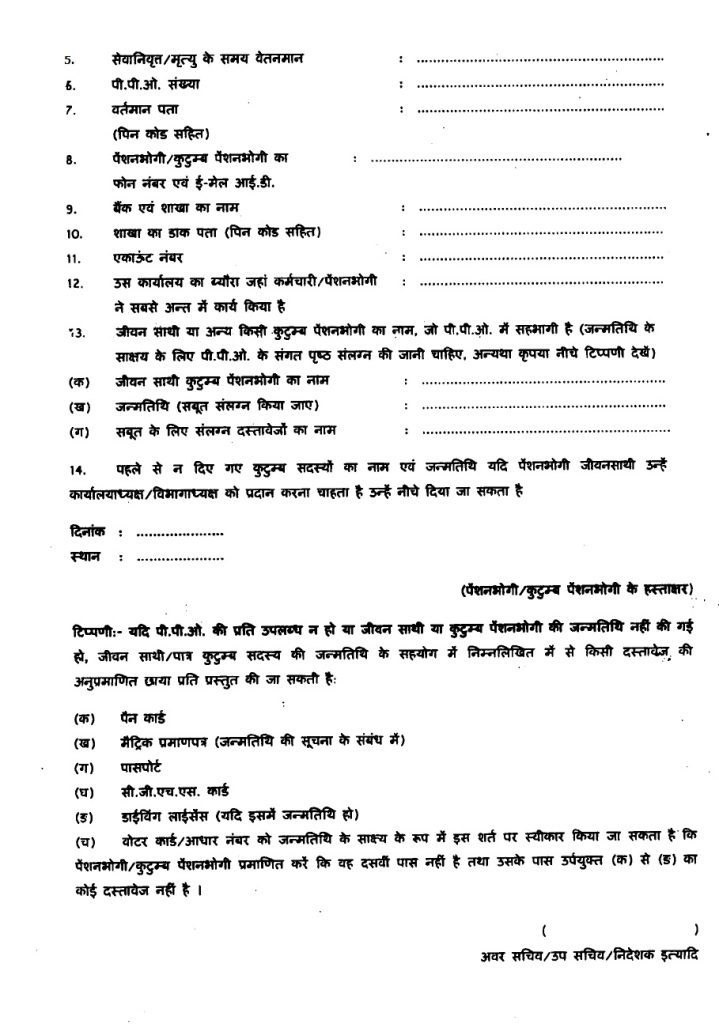 PPO/Pension Revision Advertisement Hindi Page 2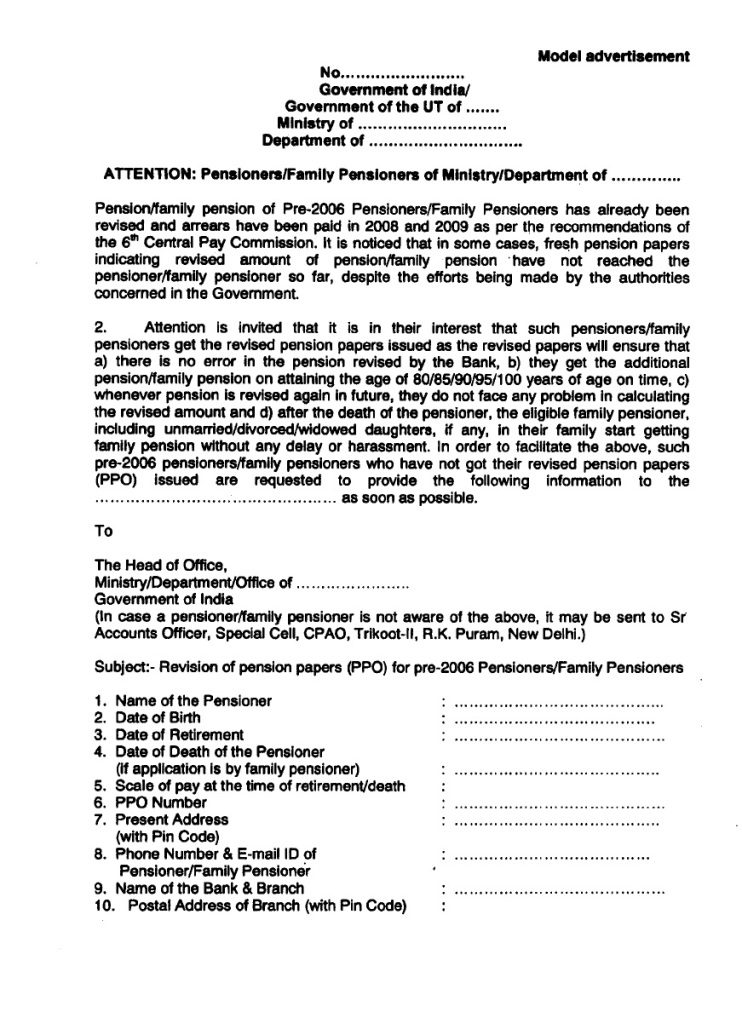 PPO/Pension Revision Advertisement English Page1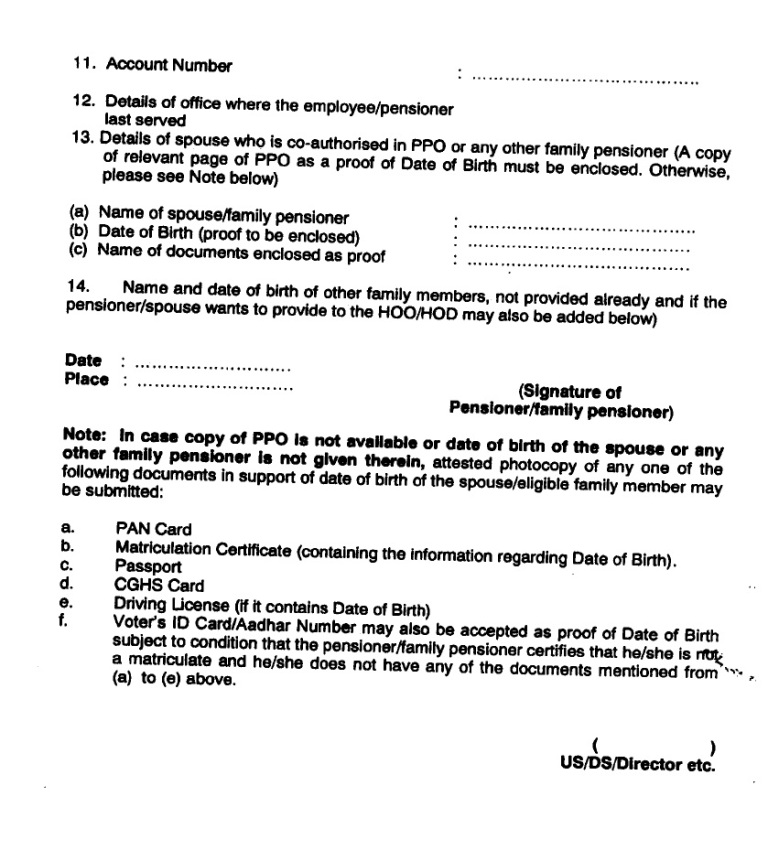 PPO/Pension Revision Advertisement English Page2
Stay connected with us via Facebook, Google+ or Email Subscription.
Subscribe to Central Government Employee News & Tools by Email [Click Here]
Follow us: Twitter [click here] | Facebook [click here] | Google+ [click here]
Admin