Rajya Sabha website has uploaded the finance ministry's latest reply dated 23.04.2013 about no proposal to constitute the Seventh Central Pay Commission is at present under consideration. In reply of unstarred question by Shri Sukhdev Singh Dhindsa "Whether Government proposes to set up the Seventh Central Pay Commission for Central Government Employees to neutralize the effects of soaring inflation" the finance ministry has submitted a reply, "The recommendations of the 6th Central Pay Commission were given effect to from 1.1.2006. Generally, there has been a gap of a minimum 10 years between two successive Pay Commissions. Therefore, no proposal to constitute the Seventh Central Pay Commission is at present under consideration." See details of Rajya Sabha Q&A:-
GOVERNMENT OF INDIA
MINISTRY OF FINANCE
RAJYA SABHA
UNSTARRED QUESTION NO-3148
ANSWERED ON-23.04.2013
Setting up of Seventh Pay Commisison
3148 . SHRI SUKHDEV SINGH DHINDSA
(a) Whether Government proposes to set up the Seventh Central Pay Commission for Central Government Employees to neutralize the effects of soaring inflation;
(b) if so, by when it is likely to be set up; and
(c) if not, the reasons therefor?
ANSWER
MINISTER OF STATE IN THE MINISTRY OF FINANCE (SHRI NAMO NARAIN MEENA)
(a) to (c) : The recommendations of the 6th Central Pay Commission were given effect to from 1.1.2006. Generally, there has been a gap of a minimum 10 years between two successive Pay Commissions. Therefore, no proposal to constitute the Seventh Central Pay Commission is at present under consideration.
*******
Source: Rajya Sabha Q&A
See snapshot of Rajya Sabha Q&A [Click/download & share with your friends]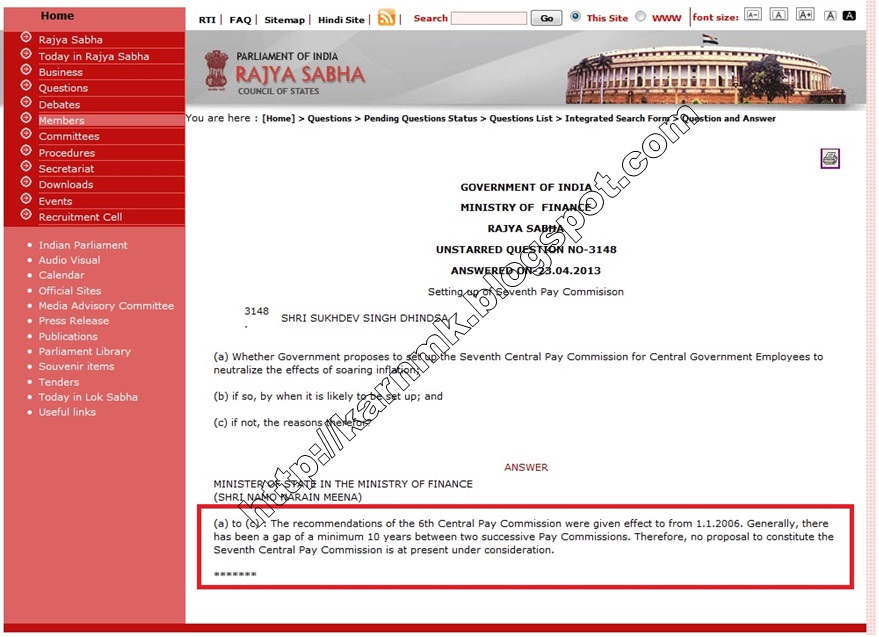 Stay connected with us via Facebook, Google+ or Email Subscription.
Subscribe to Central Government Employee News & Tools by Email [Click Here]
Follow us: Twitter [click here] | Facebook [click here] | Google+ [click here]
Admin