Observance of Anti-Terrorism Day on today i.e. 21st May
No.19/1512013-Puhlic
Govgrninctit of India/Bharat Sarkar
Ministry of Home Affairs/Grih Mantralaya
North Block., New Delhi,
Dated the 8th May, 2013
To
Chief Secretaries of all State Government,
Administration of all Union Territories, and
Secretaries of all Ministries/Departments
of the Govt. of India.
Subject: Observance of Anti-Terrorism Day.
I am directed to say that every year May 21 is observed as Anti-Terrorism Day. The objective behind observance of this day is to wean away the youth from terrorism and the cult of violence by highlighting the sufferings of common people and showing as to how it is prejudicial to the national interest. The ways in which this objective can be achieved have been enumerated in former Union Home Minister's D.O. letter 19/3/92-Public dated 13th May, 1992, a copy of which is enclosed for, guidance. An important feature of the observance of the Anti Terrorism Day is the "pledge-taking" ceremony in an Government offices, public sector undertakings and other public institution. A copy of the 'pledge" (both In English & Hindi) is enclosed.
2. You are, accordingly, requested to organize appropriate programmes, including the pledge taking ceremony, to observe the Anti-Terrorism Day in a befitting mariner,
Yours fathfully,
sd/-
(Bhagwan Shankar)
Joint Secretary to the Government of India
शपथ
हम भारतवासी अपने देश की अहिंसा एवं सहनशीलता की परम्परा में दृढ़ विश्वास रखते हैं तथा निष्ठापूर्वक शपथ लेते हैं कि हम सभी प्रकार के आतंकवाद और हिंसा का डटकर विरोध करेंगे। हम मानव जाति के सभी वर्गों के बीच शान्ति, सामाजिक सद्भाव तथा सूझबूझ कायम करने और मानव जीवन मूल्यों को खतरा पहुचाने वाली और विघटनकारी शक्तियों से लड़ने की भी शपथ लेते हैं।
PLEDGE
We, the people of India, having abiding faith in our country's tradition of non-violence and tolerance, hereby solemnly affirm to oppose with our strength, all forms of terrorism and violence. We pledge to uphold and promote peace, social harmony, and understanding among all fellow human beings and fight the forces of disruption threatening human lives and values.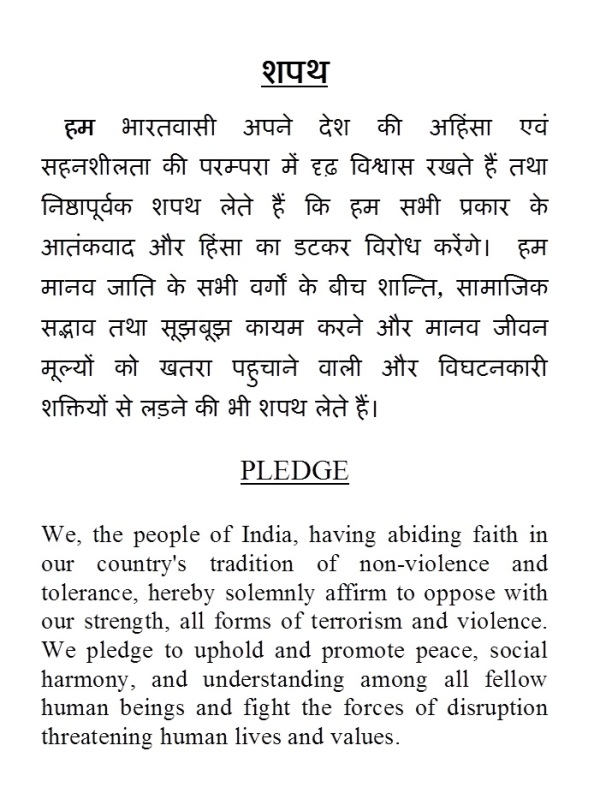 Source: http://www.esic.nic.in/CIRCULARS/cir_evi17513.pdf
Stay connected with us via Facebook, Google+ or Email Subscription.
Subscribe to Central Government Employee News & Tools by Email [Click Here]
Follow us: Twitter [click here] | Facebook [click here] | Google+ [click here]
Admin