As published by Shri TKR Pillai, Gen Sec on his blog:-
LDC-UDC ISSUE-YET ANOTHER LETTER FROM DEPARTMENT OF EXPENDITURE
Dear friends,
I give hereunder the copy of the letter received from the Department of Expenditure on the issue of upgradation of grade pay of LDC & UDC. A similar letter addressed to FA, DoPT with copy to Shri M Krishnan, Secretary General Confederation has been posted in this web site on 30th November. Association's view was that the LDC & UDC are common cadres and spread over the entire Government of India offices and as such upgradation in a particular Department or some Departments through cadre restructuring is not possible. As such with the support of Confederation our Association had decided to file a case so that the upgradation of Grade Pay to these cadres may get w.e.f. 1.1.2006. And the preparation for filing the case is under progress and we expect the same would be filed by 1st week of March.
TKR Pillai
General Secretary
Mob. 09425372172
No. 58(2)/E.III (B)/2013
Ministry of Finance
Department of Expenditure
E.III-(B) Branch
New Delhi, the 23 January, 2014
OFFICE MEMORANDUM
Subject: Forwarding of letter No. 4/GS/2013 dated 14/10/2013 from All India Association of Administrative Staff.
The undersigned is directed to forward herewith letter No. 4/GS/2013 dated 14/1-/2-13 from Shri TKR Pillai regarding upgradation of Grade Pay of LDC and UDC in administrative branch of Government of India offices and to state that this Department does not consider the representations received from individuals or association and they are forwarded to the concerned administrative ministry/departments. The administrative Ministry/Department concerned is required to examine the representations and if merit is found, the same may be forwarded to this Department for consideration in the form of a proposal, through IFD.
Sd/
(Manoj Kumar)
Under Secretary to the Government of India
To
FA (DoPT),
Department of Personal & Training,
North Block,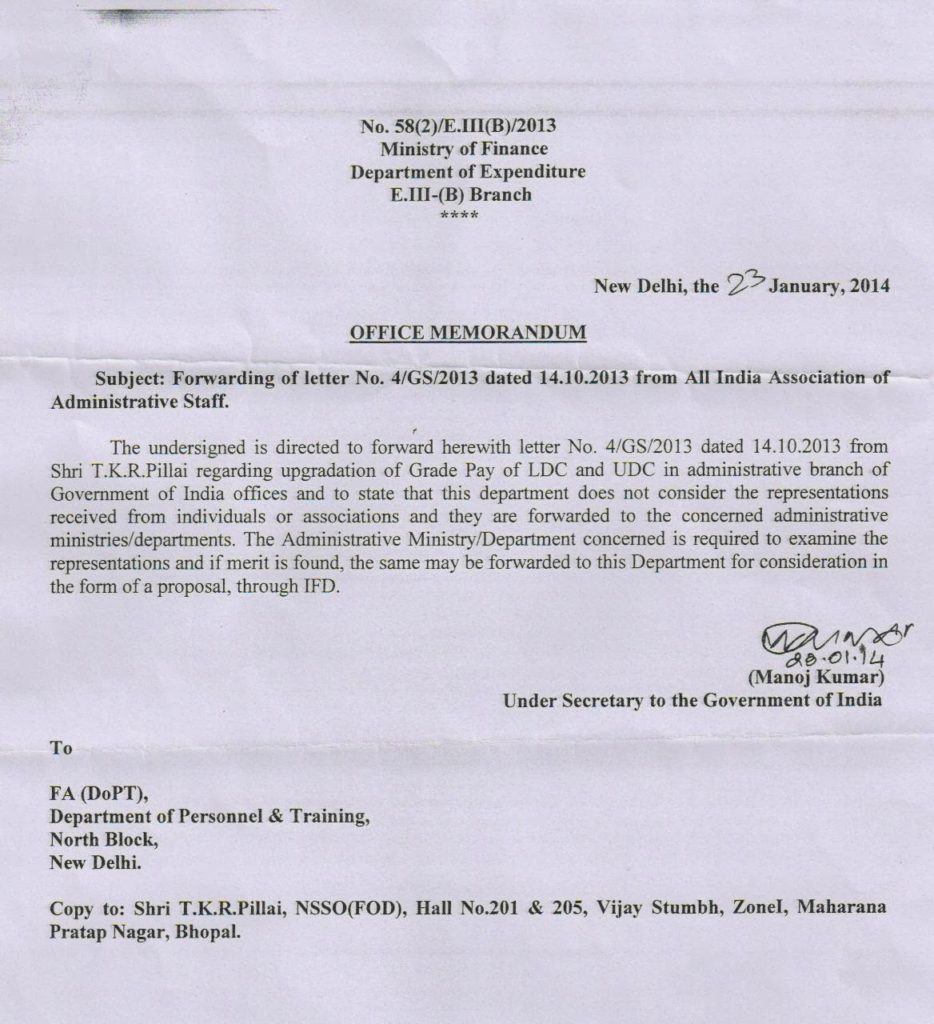 Stay connected with us via Facebook, Google+ or Email Subscription.
Subscribe to Central Government Employee News & Tools by Email [Click Here]
Follow us: Twitter [click here] | Facebook [click here] | Google+ [click here]
Admin