The approval of Competent Authority is conveyed for extending the same for the pensioners covered under ESIC-PMS-06 to enable their nominees to claim reimbursement of medical expenses in the event of their death:-
HEAD-QUARTERS OFFICE
EMPLOYEES' STATE INSURANCE CORPORATION
PANCHDEEP BHAWAN: C.I.G MARG: NEW DELHI
Dated: 29.04.2014
Sub: – ESIC Pensioner Medical Scheme -Removal of difficulties.
Ref:- Hqrs. office clarifications of even No. dated 13/01106, 7/6/06, 15112/06, 113/07, 7/1108,27/6/08, 5/8/08,25/3/09, 117/09, 711/10, 26/8/10, 1111/10,24/05/11, 11110112 and 11/04114.
Sirl Madam,
Pursuant to issuance of Circular dated 25.09.2013 by Ministry of Health & Family Welfare providing nomination facility to the pensioners covered under CGHS, the approval of Competent Authority is conveyed for extending the same for the pensioners covered under ESIC-PMS-06 to enable their nominees to claim reimbursement of medical expenses in the event of their death, subject to the following conditions:
1)
The nomination facility shall be available only to the ESIC pensioner card holders.
2)
Pensioners who wish to exercise this option shall submit their declaration of nomination in the prescribed 'Nomination Form' duly filled up and complete in all respect to the Card Issuing Authority. [Performa of Nomination form enclosed]
3)
The Card Issuing Authority shall maintain a separate register – 'Nomination' Register' to record the particulars of the nomination submitted by the ESIC pensioner, in exercise of this option.
4)
Only one person shall be allowed to be nominated as the original nominee or first nominee. In addition, another person can also be nominated as alternate nominee or second nominee who can claim reimbursement in case of unfortunate death of the first nominee.
5)
The principal ESIC – PMS cardholder can nominate any natural or juristic person as his/her nominee for this purpose, whether related or unrelated to him/her.
6) This option can be exercised at any time during the lifetime of the beneficiary. However, this option can be exercised only -twice in the lifetime of the pensioner card holder.
7)
In case, no option has been exercised during the life time of the ESIC pensioner beneficiary, the existing CGHS provision for claiming reimbursement of medical expenses, requiring submission of Affidavit by the claimant and NOCs from other legal heirs shall continue to apply.
The Office Memorandum will be effective from the date of its issue
The contents of this letter may be brought to the notice of all pensioners individually and the Pensioner's Associations of your region.
The receipt of this letter may please be acknowledged.
Hindi version will follow.
Yours faithfully,
(M. Nanda)
Dy. Director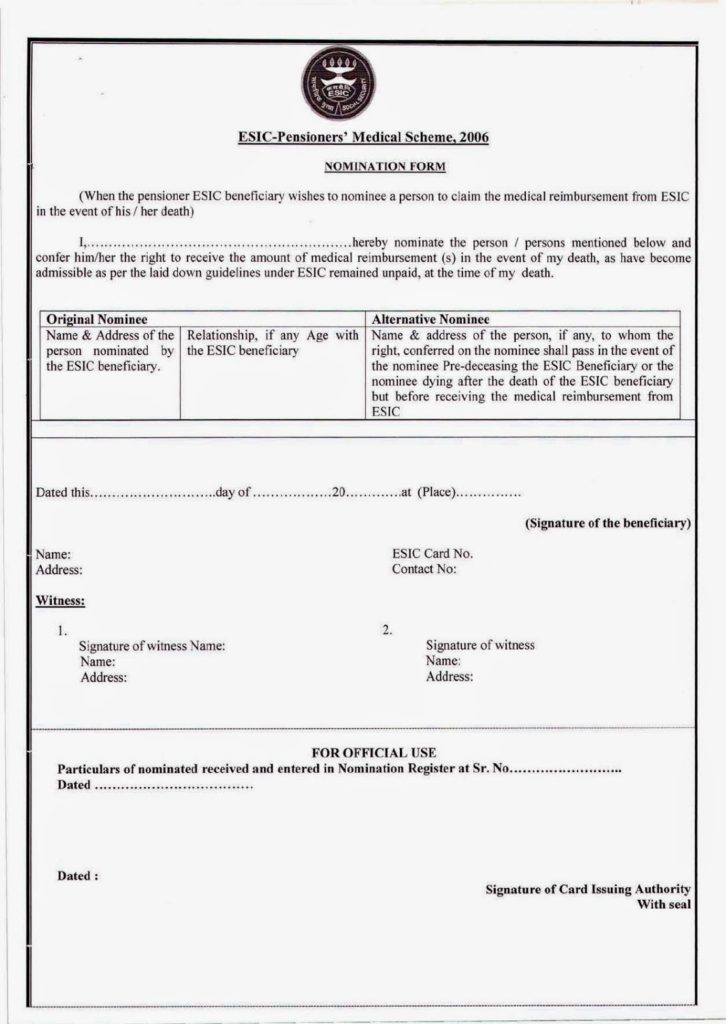 Source: http://www.esic.nic.in/CIRCULARS/cir_EVI_1.5.14.pdf
Stay connected with us via Facebook, Google+ or Email Subscription.
Subscribe to Central Government Employee News & Tools by Email [Click Here]
Follow us: Twitter [click here] | Facebook [click here] | Google+ [click here]
Admin