"My government is committed to One-rank One-pension," said PM Modi on board INS Vikramaditya. "There were many promises on One-rank One-pension, but no action was taken," he added. He further mentioned that the security of the country is his top priority. "We want to see eye-to-eye with the world. We don't wish to threaten others, neither do we wish to bow down before others," he said.
Prime Minister Narendra Modi on Saturday visited the country's largest warship INS Vikramaditya off Goa coast in Arabian Sea, showcasing India's naval prowess. Arriving on board the warship in a Sea King chopper, the Prime Minister was given the ceremonial guard of honour by the Navy and was briefed about the warship, which will be dedicated to the nation today.
He also sat in a MIG 29 aircraft and had a feel of the combat fighter on the ship sailing off the Goa coast. The Prime Minister will spend a few hours on board the 44,500-tonne warship and is likely to witness a host of exercises by the frontline warships and aircraft. This is the new Prime Minister's first visit to any defence installation.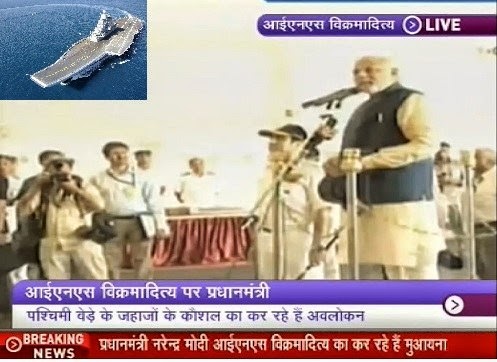 Read more at: http://indianexpress.com
Stay connected with us via Facebook, Google+ or Email Subscription.
Subscribe to Central Government Employee News & Tools by Email [Click Here]
Follow us: Twitter [click here] | Facebook [click here] | Google+ [click here]
Admin