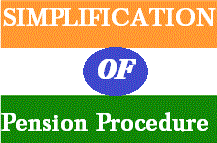 Simplification of pension procedure-submission of undertaking by retiring Government servant along with pension papers: CPAO's O.M. – "
the required undertaking may be obtained by the Head of Office from the retiring Government servant along with Form 5 and other documents before his retirement "
GOVERNMENT OF INDIA
MINISTRY OF FINANCE
DEPARTMENT OF EXPENDITURE
CENTRAL PENSION ACCOUNTING OFFICE
TRIKOOT-II, BHIKHAJI CAMA PLACE,
NEW DELHI-110066
CPAO/Tech/Simplification/2014-15/241-351
08.08.2014
Office Memorandum
Sub: Simplification of pension procedure-submission of undertaking by retiring Government servant along with pension papers
"The Scheme for Payment of pensions to Central Government Civil Pensioners through Authorized Banks" issued by CP/-Xo provides for an undertaking of recovery of overpayment to be submitted by the retiring Government servant,-'pensioner to the pension disbursing bank before commencement of pension. Delayed submission of this undertaking has been a main reason in crediting the first payment of pension to the pensioners account.
In order to simplify the pension procedure and consequent upon the delinking of commencement of pension with the first time identification of the pensioner by bank, the Department of Pension & Pensioners' Welfare has approved the submission of undertaking by the retiring Government servant along with pension papers before his retirement.
Now. the required undertaking may be obtained by the Head of Office from the retiring Goventment servant along with Form 5 and other documents before his retirement and forwarded the same to Pay and Accounts Office along with pension case for onward transmission 'to bank through CPAO. The undertaking shall be addressed to the Branch Manager of the Pension Account Holding Branch and in the prescribed format (copy enclosed)
These instructions were earlier issued by Department of Pension & Pensioners' Welfare vide their OM dated 7th May, 2014 and CPAO vide its OM dated 28th May. 2014 (available on CPAOs' website). But it has been noticed that Head of the Offices and Pay and Accounts Offices are not even aware of these instructions so far. Consequently, these instructions are not being implemented and the main reason of delay in first credit of pension by the banks still persists. This is a matter of great concern.
Therefore. all Pr. CCAs/CCAs/CAs are requested to issue directions to their PAOs for complying with the OM No. CPAO/Tech/Simplification/2014-15/52 dated-28.05.2014 and to ensure that all pension cases received from Head of Offices are supported with undertaking of recovery of overpayment and the same is invariably forwarded to CPAO as a part of PPO booklet for onward transmission to CPPC of the bank. All authorization sections in CPAO have already been directed not to accept any pension case for authorization of pension payment received without the undertaking.
Encl: – As above
sd/-
(Suman Bala)
Chief Controller (Pensions)
SPECIMEN LETTER OF UNDERTAKING BY THE PENSIONER
Date_________
To
The Branch Manager
_________________________________ (Bank)
_________________________________ (Branch & address)
Dear Sir,
Payment of pension under A/C No._____________ through your Bank.
In consideration of your having, at my request, agreed to make payment of pension due to me every month by credit to my account with you. I the undersigned agree and undertake to refund or make good any amount to which I am not entitled or any amount which may be credited to my account in excess of the amount to which I am or would be entitled. I further hereby undertake and agree to bind myself and my heirs, successor, executors and administrators to indemnify the bank from and against any loss, suffered or incurred by the bank in so crediting my pension to my account under the scheme and to forthwith pay the same to the bank and also irrevocably authorise the bank to recover the amount due by debit to my said account or any other account! deposits belonging to me in the possession of the bank.
Yours faithfully,
Signature:__________________
Name:_____________________
Address:___________________
Witnesses:
(1) Signature:_________________________ (2) Signature:_____________________
Name:______________________________ Name: _______________________
Address: ____________________________ Address: ______________________
Date: ______________________________ Date:_________________________