Deptt of Post Order: DA from July, 2014:-
F.No. 8-01/2012-PAP
GOVERNMENT OF INDIA
MINISTRY OF COMMUNICATION & IT
DEPARTMENT OF POSTS
(ESTABLISHMENT DIVISION)/P.A.P. SECTION
DAK BHAWAN, SANSAD MARG. NEW DELHI – 110 001.
Dated 22nd September, 2014.
To
1. ALL HEADS OF-CIRCLES
2. ALL HEADS OF POSTAL ACCOUNTS OFFICES,
3. DEPUTY DIRECT GENERAL (PAF)/CGM.PLI/CGM,BD,
4. ADG (ADMN), POSTAL DIRECTORATE,
5. ALL HEADS OF POSTAL STAFF COLLEGE/P.T'.Cs.
Sub: Rates of Dearness Allowance applicable w.e.f. 1.7.2014 to the Employees of Central Government. REG.
Sir/Madam,
I am directed to forward herewith a copy of the Ministry of Finance, Department of Expenditure's Office Memorandum No. 1/2/2014-E-II(B) dated 18th September, – 2014 on the subject cited above for information, guidance and further necessary action.
This Issue with the approval of the competent authority.
Yours faithfully,
sd/-
(Maj. S.N. Dave)
ASSISTANT DIRECTOR GENERAL (ESTT.)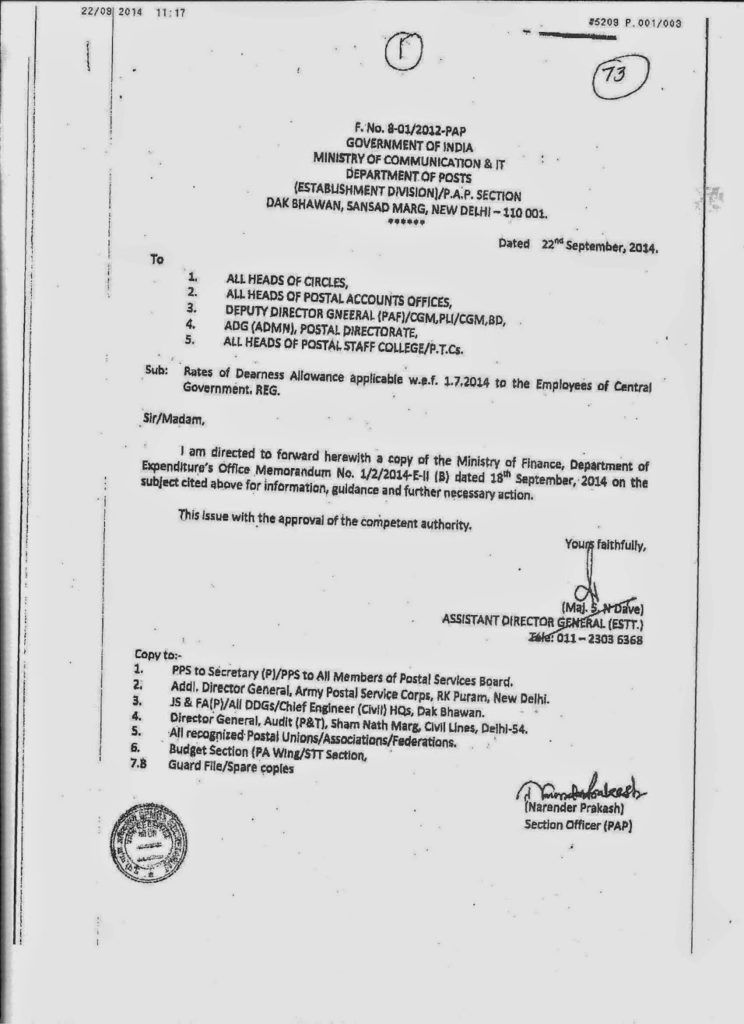 DA FROM JUL-2014 ORDER ISSUED by FinMin
Stay connected with us via Facebook, Google+ or Email Subscription.
Subscribe to Central Government Employee News & Tools by Email [Click Here]
Follow us: Twitter [click here] | Facebook [click here] | Google+ [click here]
Admin