Implementation of Govenrnment's decision in pursuance to CAT,Principal Bench, New Delhi order dated 15.05.2014-Revision of pension of members of Central Government SAG(S-29) Pensioners' Association-reg..
GOVERNMENT OF INDIA (BHARAT SARKAR)
MINISTRY OF RAILWAYS (RAIL MANTRALAYA)
(RAILWAY BOARD)
No. F(E)III/2008/PN1/12
New Delhi, Dated: 09.09.2014
The GMs/FA&CAOs/RDSO,
All Indian Railways/Production Units.
Subject: Revision of pension of pre-2006 pensioners-reg.
A copy of Department of Pension and Penisoners' Welfare (DOP&PW)'s O.M. No. 38/37/08-P&PW(A) dated 26.08.2014 along with enclosures is enclosed for information and compliance. These instructions shall apply in the case of petitioners (as contained in the enclosed list) only. Rule 49 of the CCS (Pension) Rules, 1972 referred to therein corresponds to Rules 69 of the Railway Services(Pension) Rules, 1993. The Ministry of Finance, Department of Expenditure's O.M. No.1/1/2008-IC dated 30.08.2008 mentioned in DOP&PW's O.M. dated 26.08.2014 has beenadopted on Railways vide Railway Board's letter PC-VI/2008/I/RSPR/1 dated 11.09.2008
2. A concordance of DOP&PW's instructions referred to in the enclosed O.M. and Railway Board's corresponding instructions is given below:-
| | | |
| --- | --- | --- |
| S.No. | DOP&PW's instruction's | Corresponding instructions of Railway Board |
| 1. | 38/37/08-P&PW(A) dated 01.09.2008 | F(E)III/2008/PN1/12 dated 08.09.2008 |
| 2. | 38/37/08-P&PW(A) dated 03.10.2008 | F(E)III/2008/PN1/12 dated 08.10.2008 |
| 3. | 38/37/08-P&PW(A) dated 28.01.2013 | F(E)III/2008/PN1/12 dated 11.02.2013 |
3. A compliance report has to be sent to DOP&PW before 25.09.2014. As such, IMMEDIATE action may be taken to revise the pension in the cases as per enclosed list and compliance report sent to this office 20.09.2014.
4. This may be treated as MOST URGENT
(Amitabh Joshi)
Deputy Director Finance (Estt.)III.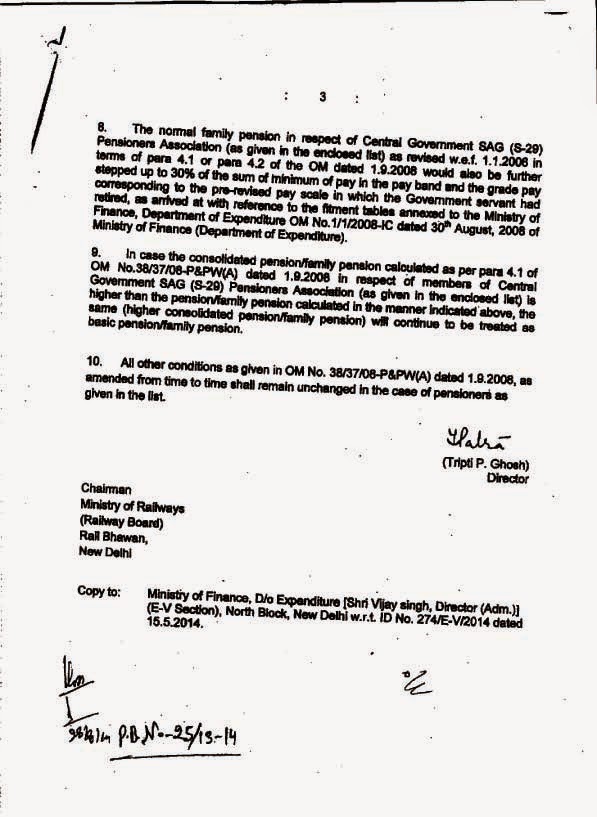 Souce: http://scm-bps.blogspot.in/2014/09/implementation-og-govenrnments-decision.html
Stay connected with us via Facebook, Google+ or Email Subscription.
Subscribe to Central Government Employee News & Tools by Email [Click Here]
Follow us: Twitter [click here] | Facebook [click here] | Google+ [click here]
Admin