Pay Commission team visits Siachen to get first-hand experience: India Today
The 7th Pay Commission visited forward areas in Jammu and Kashmir, including the world's highest battlefield on the Siachen glacier, to get the first-hand feel of the freezing temperatures and hardship faced by soldiers.
The 16-member team headed by the panel's chairman, retired judge A.K. Mathur, spent time at the base camp in Siachen and went to other forward areas. The three services have submitted a joint memorandum to the Pay Commission regarding their "wish list". The panel will visit other defence installations as it continues its deliberations till January 1, 2016.
The panel spent considerable time at the Siachen base camp, interacting with soldiers and asking them about the conditions in one of the toughest areas of the world. They were also flown over the glacier and landed at a forward post. The soldiers work under extreme climatic conditions where the weather is a constant enemy. The soldiers shared their experience and talked about the harsh climatic condition they face on the line of duty. The punishing weather does not allow a person to spend more than a week at the glacier and the forward posts, they told the panel.
The panel members also witnessed ice craft and mountaineering training being carried out at the Siachen Battle School.
The Pay Commission team also landed at the advanced landing ground at Daulat Beg Oldie on the border with China. It is the world's highest landing strip and air operations in the rarefied high altitude air are a challenge.
During their visits to the forward areas, the delegation laid floral wreaths at the Siachen War Memorial, Kargil War Memorial and the Rezangla War Memorial while paying tributes to our martyrs, a defence PRO said.
At the Line of Actual Control, the Pay Commission members interacted with personnel from the Indian Air Force and Indo-Tibetan Border Police (ITBP).
Officials said the panel will have to consider the unique situation faced by the jawans, who are exposed to severe medical conditions because of the inhospitable environment. "The climate does not suit human habitation but the army jawans are positioned in the area manning the territory all through the year," an official said.
This is only the first round of interaction and more inputs would be sought by the team in the coming months.
Meanwhile, a delegation of the All Ladakh Central Government Employees (ALCGE), which comprises staff of Doordarshan, High Altitude Research Centre, Kendriya Vidyalaya, Jawahar Navodaya Vidyalaya, Institute of Buddhist Studies and Air Force Authority of India, met Justice Mathur's team.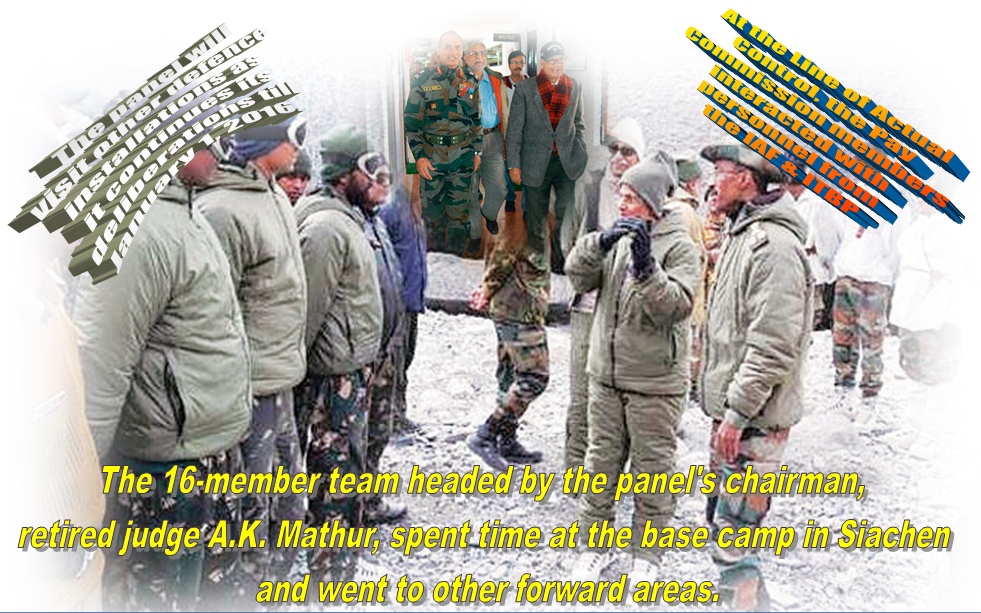 Source: http://indiatoday.intoday.in/story/7th-pay-commission-jammu-and-kashmir-siachen-glacier-indian-army/1/395791.html
Stay connected with us via Facebook, Google+ or Email Subscription.
Subscribe to Central Government Employee News & Tools by Email [Click Here]
Follow us: Twitter [click here] | Facebook [click here] | Google+ [click here]
Admin