NEW DELHI: Seeking justice for ex-servicemen, BJP leader Subramanian Swamy today met Defence Minister Manohar Parrikar and raised the issue of one-rank one-pension.
He reminded Parrikar that the implementation of same-rank same-pension scheme was BJP's 2014 election promise made by Prime Minister Narendra Modi during the campaigning at Bhiwani.
In his speech at Bhiwani, Modi had stated that if BJP came to power after the Lok Sabha elections, the BJP government would do justice to the ex-servicemen of the armed forces on the same rank-same pension issue.
One-rank, one-pension means soldiers of the same rank and the same length of service get the same pension, irrespective of their retirement date. For an example, a sepoy who retired in 1995 would get the same amount of pension as the one who retired in 1996.
According to Swamy, Parrikar told him that he is seized of the matter and is closely studying the issue with a view to finding a solution to the satisfaction of ex-servicemen.
The Defence Minister assured Swamy that an announcement on the issue of one-rank one-pension is expected to be made by the time of the Budget presentation in February next year.
The decision to implement the scheme was first announced by former Finance Minister P Chidambaram in the UPA government's interim Budget in February this year. Chidambaram had allocated Rs 500 crore for it.
The NDA government had allocated Rs 1000 crore for the scheme in its July Budget this year.
Besides one-rank one-pension scheme, Swamy also brought to Parrikar's notice some strategic issues regarding China's defence capacity.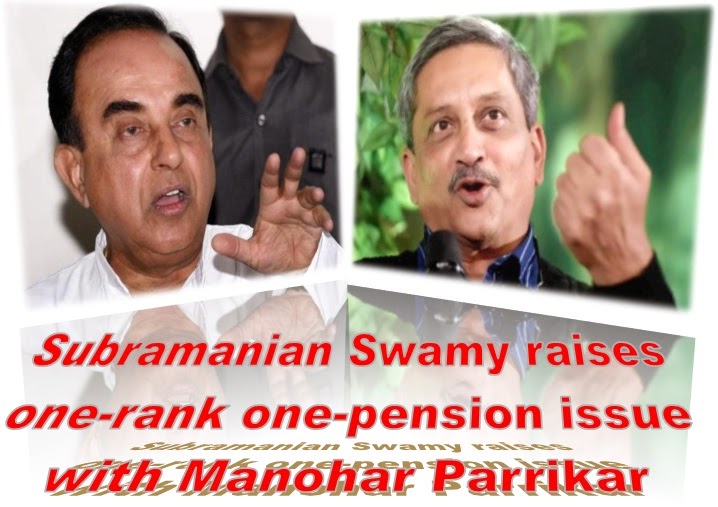 Subramanian Swamy raises one-rank one-pension issue with Manohar Parrikar
Source: The Economic Times
Stay connected with us via Facebook, Google+ or Email Subscription.
Subscribe to Central Government Employee News & Tools by Email [Click Here]
Follow us: Twitter [click here] | Facebook [click here] | Google+ [click here]
Admin