NEW DELHI:Prime Minister Narendra Modi's efforts to set right India's babudom are showing tell-tale signs of resistance. It appears the bureaucrats have declared a guerrilla warfare against Modi's discipline drive.
In less than two months of the implementation of the PM's pet project, biometric attendance systems (BAS), over 50 such machines, which were installed in various ministries to record entry and exit time of government officials, have been found damaged or even stolen under mysterious circumstances.
Annoyed with the attitude of the bureaucrats, the Director General, National Informatics Centre, who is a joint secretary rank officer in the Ministry of Communication and IT, Ajay Kumar, has written a note to all nodal officers and NIC coordinators expressing serious concern over the behaviour of the government employees.
"It has come to our notice that some biometric attendance terminals installed in your department have been damaged/vandalized," Ajay Kumar said in a missive dated 16 January. He has also conveyed to the nodal officers that the devices are not covered under warranty of the equipment and therefore, asked officials to take steps to replace the damaged machines on priority and out of their own (ministry/departments) funds.
Kumar has also enclosed a detailed list of damaged and stolen biometric attendance systems at various ministries, including External Affairs. Petroleum, Human Resource Development, Sports, Health, Agriculture, Corporate Affairs, Mines etc. housed in various government complexes like Shastri Bhawan, Nirman Bhawan, Sewa Bhawan, Lok Nayak Bhawan, Shram Shakti Bhawan, Krishi Bhawan and NIC headquarters.
Surprisingly, the NIC headquarters, which is the implementing agency of the BAS project as well as its headquarters and also houses its server, is reported to have maximum number of damaged attendance machines. Before installing BAS in a particular ministry, a team of NIC officials conducts workshops for the employees to inform them about the dos and donts of using the system.
The biometric attendance system (BAS) is part of "Digital India" programme and is currently implemented in the Central government offices located in Delhi. Gradually, the BAS will be expanded to all Central government employees across India and will be applicable to all ministries, departments, autonomous Central government bodies, institutions and Central public unit sectors as well.
The NIC has purchased biometric attendance system from a French firm Morpho (Safran), which is linked with the Aadhar card of the employees. The government expects 100% enrolment of employees and all employees present should mark attendance through the centralized biometric attendance system.
According to the dashboard of the attendance.gov.in, which displays real-time information on the attendance status in government offices on basis of the BAS, on Saturday, out of total 93,913 registered employee 7,124 was showing present from the 1,200 active devices from 427 various departments and ministries.
In the first phase of implementation, government has installed 1,000 wall mounted biometric attendance terminals, 5,000 finger print scanning devices and 200 IRIS devices across various government buildings. Because the attendance is now centralized, government employees will be able to mark their attendance in any of the buildings where biometric terminals and scanners are installed.
Red Tape Fights Back
Ministries where biometric devices have been damaged: Department of Agriculture, Ministry of External Affairs, CPWD, Mines, Petroleum, PIB, HRD,Culture, Sports, Department of Electronics and Information Technology.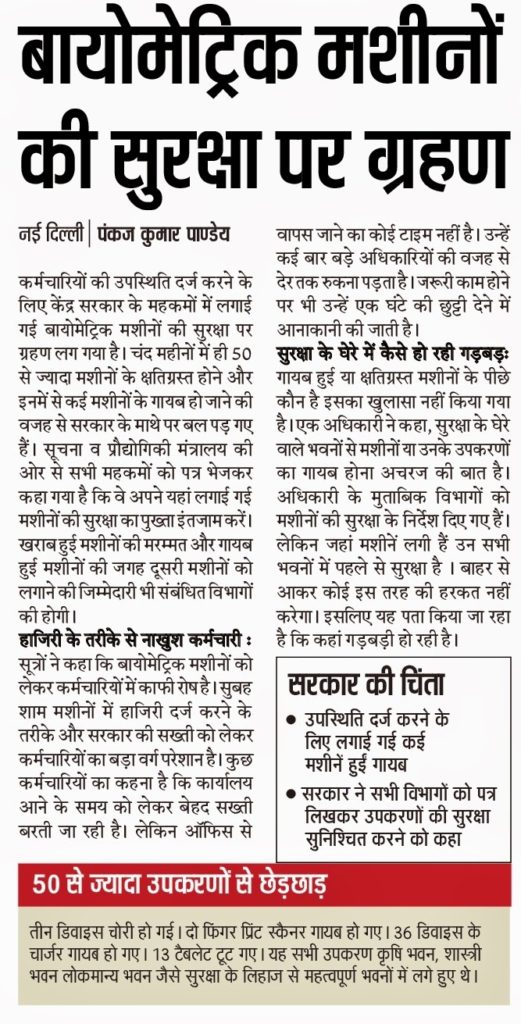 biometric machine found damaged stolen
news in Hindi [Click for larger size]
Stay connected with us via Facebook, Google+ or Email Subscription.
Subscribe to Central Government Employee News & Tools by Email [Click Here]
Follow us: Twitter [click here] | Facebook [click here] | Google+ [click here]
Admin