The 7th Pay Commission holds talks with NEXCC ( REGD) members on One Rank One Pension and other issues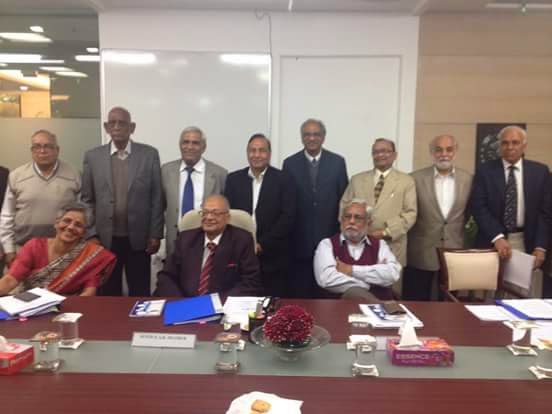 The Seventh Central Pay Commission as part of its exercise to engage with its principal stakeholders, hold a round-table with certain entities /associations at its Head Office Chatrapati Shivaji Bhawan, B-14/A, Qutub Institutional Area, New Delhi at 3.00PM.on 17th Feb 2015. In the said round-table National Ex-servicemen Co-ordination Committee (Regd.), New Delhi was invited to give feed back to the Commission. National Ex-servicemen Co-ordination Committee (Regd.), New Delhi has also been invited for preliminary discussion on the subject of Pension & other issues of Armed Forces Veterans and their dependents on 24.07.2014. Shri Govind Singh Adhikari, Secretary General and Maj.(Retd.) Vishwambhar Singh, Chairman of National Ex-servicemen Co-ordination Committee (Regd.), New Delhi attended the above said Round-Table and submitted the following vital suggestions pertaining to the Armed Forces Veterans and their dependents for the consideration of the Commission. National Ex-servicemen Co-ordination Committee (Regd.), New Delhi also participated earlier in three Central Pay Commissions.The Meeting was presided over by Hon'ble Justice( Retd.) Supreme Court of India) Shri Ashok Kumar Mathur, Chairman and conducted by Ms. Meena Aggrawal, Member Secretary of the Seventh Cenral Pay Commission. Apart from National Ex-seevicemen Co-ordination Committee (Regd.), New Delhi other prominent stakeholders also participated in the deliberartions. The National Ex-servicemen Co-ordination Committee (Regd.), New Delhi submitted the following issues and suggestions for consideration of the Commission:-
1. ONE RANK ONE PENSION TO STEM THE PROLIFERATION AND RATIONALIZE MILITARY PENSION.
2. SERVICE GRATUITY.
3. COMMUTATION & RESTORATION OF COMMUTED PORTION PENSION.
4. FAMILY PENSION.
5. RETIRING PENSION FOR PBORs.
6. EX-GRATIA PAYMENT-DIES IN HARNESS.
7. SEPARATE PAY COMMISSION FOR THE ARMED FORCES.
8. FORMATION OF NATIONAL COMMISSION FOR EX-SERVICEMEN UNDER ARTICLE 338 OF THE CONSTITUTION WITH POWER VESTED TO NATIONAL COMMISSIONS FOR S.C./S.T.
9. RECOGNITION OF MILITARY SERVICE FOR PAY-FIXATION AND SENIORITY FOR PROMOTION IN GOVT./PSUs/PS BANKS & OTHER AUTONOMOUS BODIES AS RECOMMENDED BY HLC IN 1984.
10. PROPORTIONATE PENSION TO SSOs/ECOs & PBORs SERVED ARMED FORCES FOR MORE THAN 5 YEARS AND PAID GRATUITY AS PROVIDED TO M.Ps / MLAs ETC. OTHER COUNTRIES.
11. LATERAL INDUCTION ON RETIREMENT WITH A VIEW TO UTILIZE SKILLED HUMAN RESOURCES. SELF-EMPLOYMENT AFTER RETIREMENT UNDER SKILL DEVELOPMENT SCHEME OF THE CENTRAL GOVERNMENT.
12. ENHANCEMENT OF MAXIMUM AGE FOR ENTRY IN GOVT. JOBS FOR EX-SERVICEMEN UP TO 50 YEARS SINCE THE RETIRMENT AGE HAS BEEN INCREASED TO 60/62/65 YEARS.
13. PROVISION OF RESERVATION FOR EX-SERVICEMEN AS PROVIDED TO S.C. & S.T. UNDER ARTICLE-243D, 243T& PARTS- XIV & XVI OF THE CONSTITUTION.
14. REMOVAL OF DISCRIMINATIONS IN GOVT. POLICIES ON PROFESSIONS, TRADES AND BUSINESSES ON THE BASE OF RANK HELD IN ARMED FORCES. ARTICLE- 19(g) OF THE CONSTITUTION & SECTION 27 OF CONTRACT ACT. 1872.
15. PAY-FIXATION OF EX-SERVICEMEN ON RE-EMPLOYMENT AS PER DOPT ORDERS & GUIDELINES.
16. TRANSFER POLICY ON RE-EMPLOYMENT IN CENTRAL/STATE GOVT. / PSUs / P.S. BANKS / S.B.I. / R.B.I. & AUTONOMOUS BODIES UNDER CENTRAL/STATE GOVT.
17. HOUSING SCHEMES FOR ARMED FORCES PERSONNEL & ARMED FORCES VETERANS IN VARIOUS DEVELOPMENT AUTHORITIES/CANTONMENT & MUNICIPAL AREAS, PROPOSED SMART CITIES ETC.
18 EQUALITY IN MILITARY SERVICE PAY(MSP).
As its organisational action against the apathetic attitude of the Govt. of India and authorities at the helm of the affairs, National Ex-servicemen Co-ordination Committee (Regd.), New Delhi has decided to hold a One Day Dharna & Hunger Strike on 22nd February,2015 at different parts of the country like New Delhi, Chandigarh, Kolkatta, Chennai, Patna, Raipur, Lucknow, Gorakhpur, Bareilly, Poona, Bangluru,Siliguri and Hyderabad etc. to highlight the long outstanding grievances of the Armed Forces Veterans, War disabled, War widows and their dependents..
Gobind Singh Adhikari
SECRETARY GENERAL
Read at : GovtEmpDiary
Stay connected with us via Facebook, Google+ or Email Subscription.
Subscribe to Central Government Employee News & Tools by Email [Click Here]
Follow us: Twitter [click here] | Facebook [click here] | Google+ [click here]
Admin