Grant of CSD Canteen Facilities to Retired Defence Civilian Employees: MoD's Approval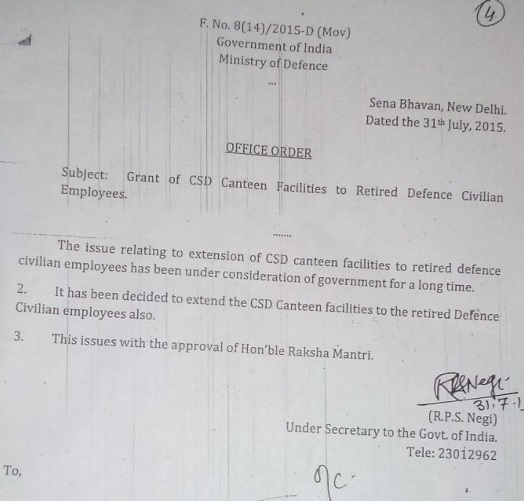 F. No. 8(14)/2015-D (Mov)
Government of India
Ministry of Defence
Sena Bhavan, New Delhi
Dated the 31st July, 2015.
OFFICE ORDER
Subject: Grant of CSD Canteen Facilities to Retired Defence Civilian Employees.
The issue relating to extension of CSD canteen facilities to retired defence civilian employees had been under consideration of government for a long time.
2. It has been decided to extend the CSD Canteen facilities to the retired Defence Civilian employees also.
3. This issues with the approval of Hon'ble Raksha Mantri.
(R.P.S. Negi)
Under Secretary to Govt of India
Source: http://bpms.org.in/documents/csd-facility-smuk.pdf
Stay connected with us via Facebook, Google+ or Email Subscription.
Subscribe to Central Government Employee News & Tools by Email [Click Here]
Follow us: Twitter [click here] | Facebook [click here] | Google+ [click here]
Admin