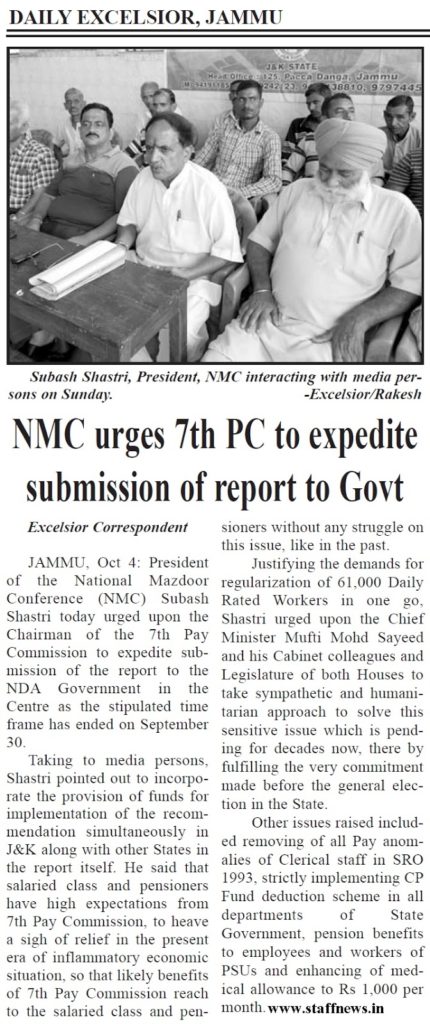 NMC urges 7th PC to expedite submission of report to Govt
JAMMU, Oct 4: President of the National Mazdoor Conference (NMC) Subash Shastri today urged upon the Chairman of the 7th Pay Commission to expedite submission of the report to the NDA Government in the Centre as the stipulated time frame has ended on September 30.
Taking to media persons, Shastri pointed out to incorporate the provision of funds for implementation of the recommendation simultaneously in J&K along with other States in the report itself. He said that salaried class and pensioners have high expectations from 7th Pay Commission, to heave a sigh of relief in the present era of inflammatory economic situation, so that likely benefits of 7th Pay Commission reach to the salaried class and pensioners without any struggle on this issue, like in the past.
Justifying the demands for regularization of 61,000 Daily Rated Workers in one go, Shastri urged upon the Chief Minister Mufti Mohd Sayeed and his Cabinet colleagues and Legislature of both Houses to take sympathetic and humanitarian approach to solve this sensitive issue which is pending for decades now, there by fulfilling the very commitment made before the general election in the State.
Other issues raised included removing of all Pay anomalies of Clerical staff in SRO 1993, strictly implementing CP Fund deduction scheme in all departments of State Government, pension benefits to employees and workers of PSUs and enhancing of medical allowance to Rs 1,000 per month.
Stay connected with us via Facebook, Google+ or Email Subscription.
Subscribe to Central Government Employee News & Tools by Email [Click Here]
Follow us: Twitter [click here] | Facebook [click here] | Google+ [click here]
Admin