eNPS – Open new Account Online or contribute to NPS account Online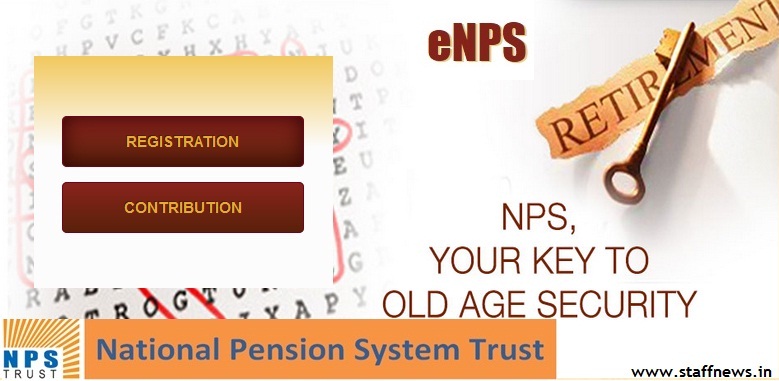 NPS Trust welcomes you to 'eNPS' ,which will facilitate:-
➤ Opening of Individual Pension Account under NPS (only Tier I / Tier I & Tier II)
➤ Making initial and subsequent contribution to your Tier I as well as Tier II account
For Account opening, you need to:
✔ Have a PAN Card, mobile number, email ID and an active bank account with enabled net baking facility
✔ Fill up all the mandatory details online
✔ Scan and upload your photograph and signature
✔ Make online payment (Minimum amount of Rs 500)
✔ Print the form, paste photograph & affix signature and submit the Form to CRA
Kindly note that the eNPS facility cannot be used for enrolment under Atal Pension Yojana (APY)
NPS Online
Open/contribute to NPS account Online
To open an Individual Pension account online.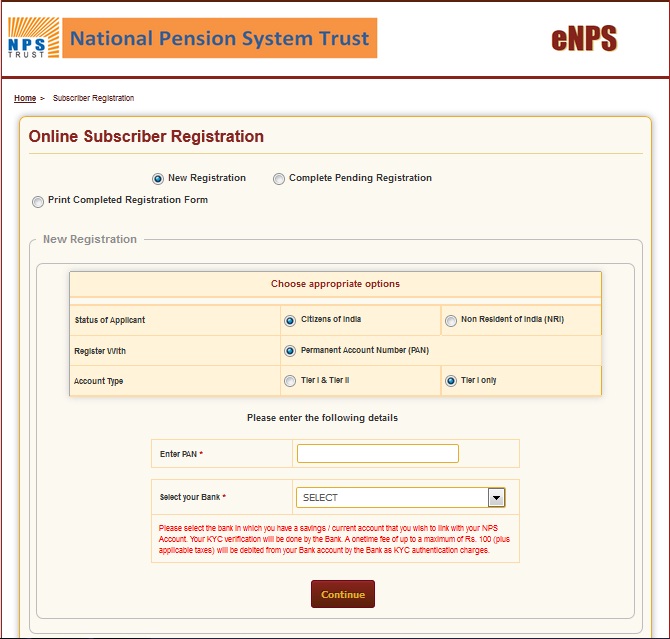 ✔ You must have a 'Permanent Account Number' (PAN) and a Bank account with any of the registered Point of Presence empanelled for KYC verification for subscriber registration through NPS
✔ Your KYC Verification in NPS will be done by your Bank selected by you during the registration process.
✔ You need to upload your scanned photograph and signature in *.jpeg/*.jpg format having file size between 4kb – 12kb.
✔ You will be routed to a payment gateway for making the payment towards your NPS account from Debit / Credit card or Internet Banking.
After successful payment of initial contribution, a Permanent Retirement Account Number (PRAN) will be allotted to you. After online account opening process is completed,
➤ The PRAN Kit containing a PRAN Card, IPIN/TPIN, Subscriber Master Report, Scheme Information Booklet alongwith a Welcome Letter will be sent to your registered address.
➤ You need to take a printout of the form, paste your photograph (please do not sign across the photograph) & affix signature.
➤ You should sign on the block provided for signature.
➤ The photograph should not be stapled or clipped to the form.
➤ The form should be sent within 90 days from the date of allotment of PRAN to CRA at the following address or else the PRAN will be 'frozen' temporarily:
Central Recordkeeping Agency (eNPS)
NSDL e-Governance Infrastructure Limited,
1st Floor, Times Tower,
Kamala Mills Compound, Senapati Bapat Marg,
Lower Parel, Mumbai – 400 013
Please note that registration for APY cannot be done through www.enps.nsdl.com. For registration under APY please contact your Bank Branch.
Processing of subsequent contribution: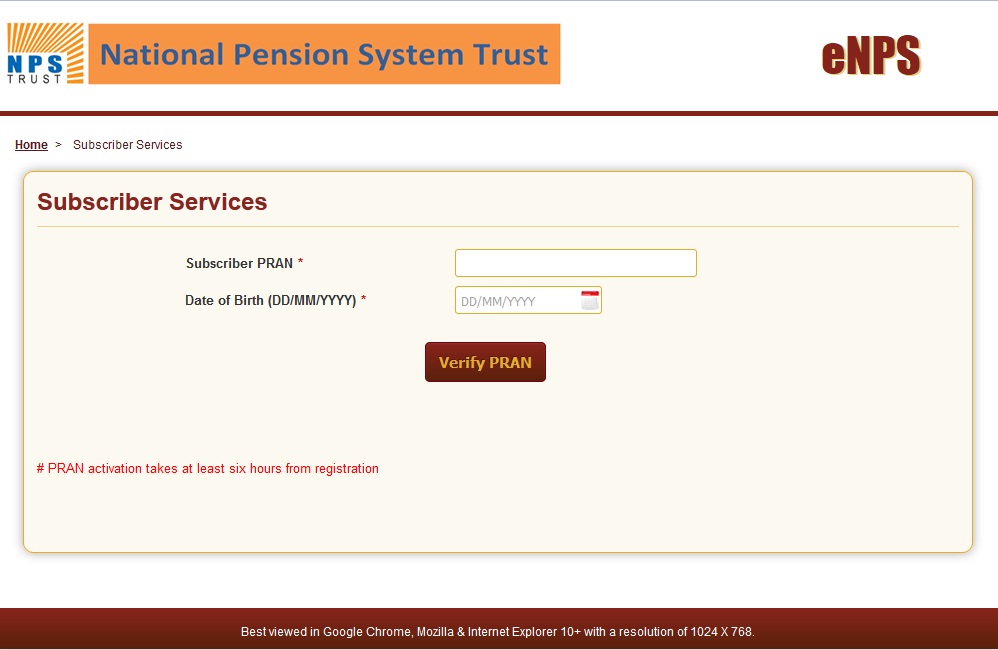 All existing subscribers (registered through both online and offline mode) can contribute in Tier I & Tier II account using 'eNPS'. To contribute online, you need to
✔ Have an active Tier I / Tier II account
✔ Authenticate your PRAN using the OTP sent to your registered mobile number
✔ Pay through your Debit / Credit card or use Internet Banking option.
For queries please contact : 022 – 4090 4242 or write to: [email protected]
Stay connected with us via Facebook, Google+ or Email Subscription.
Subscribe to Central Government Employee News & Tools by Email [Click Here]
Follow us: Twitter [click here] | Facebook [click here] | Google+ [click here]
Admin