7th CPC Recommendation on Gazetted and Restricted Holidays: DoPT seeks comments from JCM
F. No.4/45/2015-JCA-2
Government of India
Ministry of Personnel, Public Grievances and Pensions
Department of Personnel and Training
Establishment (JCA – 2) Section
North Block, New Delhi,
Date January 22/25 2016
Shri Shiv Gopal Mishra
Secretary
National Council (Staff Side)
Joint Consultative Machinery for Central Government Employees
13-C, Ferozshah Road, New Delhi 110 001
Subject: Recommendations of the Seventh Pay Commission – Comments -regarding
Sir
Please find attached the extracts of para-9.2.19 on the above Report on `Gazetted and Restricted Holidays. The Commission has expressed opinion that the present system is working well and has recommended status-quo.
2. It is requested that your comments in this matter may please be provided to this Department, preferably by 05.02.2016, so that a view can be taken.
Yours faithfully
(G. Srinivasan)
Deputy Secretary to Government of India
Click here to view Report of Seventh Pay Commission: Holidays and Leave
Report of the Seventh CPC para-9.2.19
Gazetted and Restricted Holidays
9.2.19 Besides the three National Holidays, employees are presently entitled to 14 Gazetted and 2 Restricted holidays every year. Out of the 14 Gazetted holidays, 11 are observed throughout India, while 3 are decided locally. For Restricted holidays, a list is drawn up at the local level taking local factors into consideration; employee is entitled to choose anytwoin a year out of that list. There are demands to include May Day and 14th April as compulsory holidays throughout India. Suggestions have also been received to increase the number of locally decided Gazetted Holidays from 3 to 6.
Analysis and Recommendations
9.2.20 The Commission is of the view that the present system is working well. Accordingly, status quo is recommended.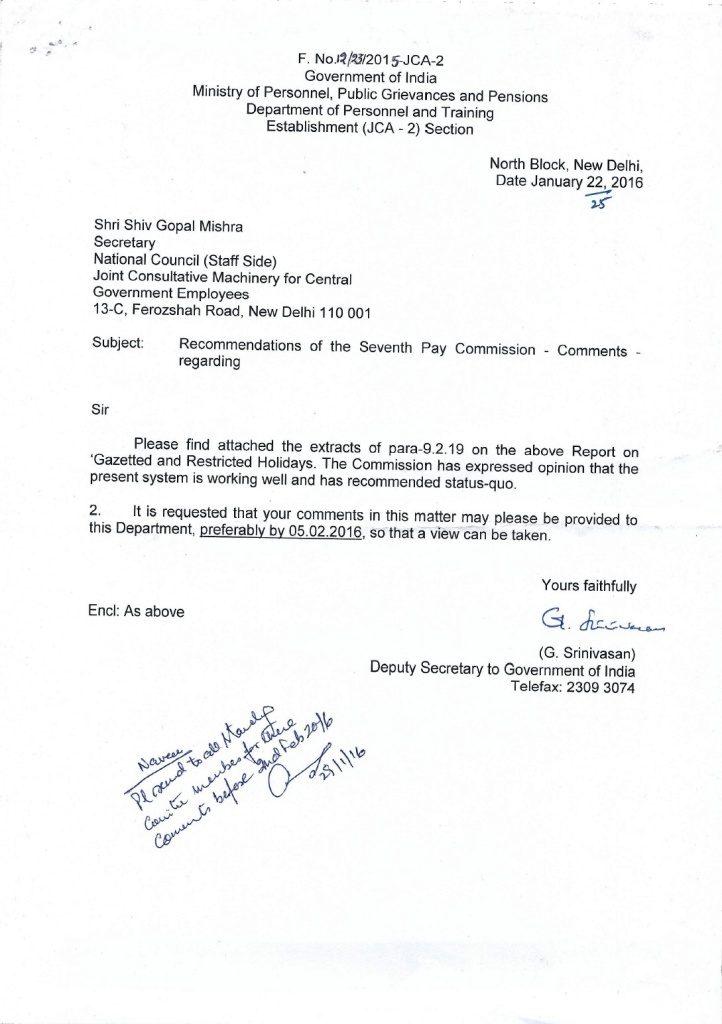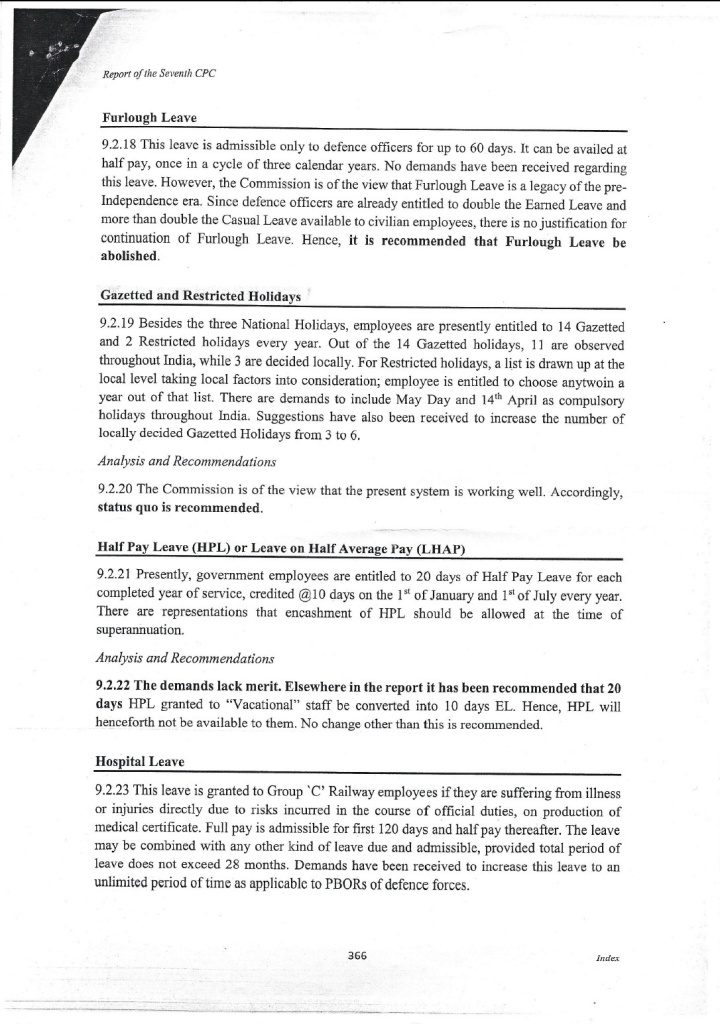 Source: Confederation
Stay connected with us via Facebook, Google+ or Email Subscription.
Subscribe to Central Government Employee News & Tools by Email [Click Here]
Follow us: Twitter [click here] | Facebook [click here] | Google+ [click here]
Admin