Absorption of Volunteer Ticket Collectors स्वयंसेवी टिकट संग्राहकों का समायोजन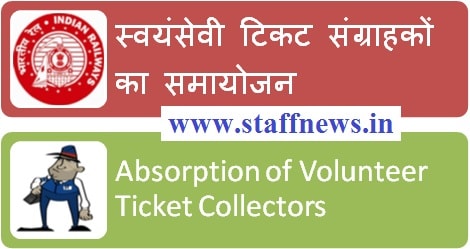 GOVERNMENT OF INDIA
MINISTRY OF RAILWAYS
RAJYA SABHA
UNSTARRED QUESTION NO-1098
ANSWERED ON-04.03.2016
Absorption of Volunteer Ticket Collectors
1098 . Smt. Kanak Lata Singh
(a) whether the Calcutta High Court and CAT have issued any directions for absorption of the employees who had worked as Volunteer Ticket Collectors (TC) in Eastern Railway;
(b) if so, the action taken in this regard so far and the number of Volunteer TCs who had worked in Eastern Railway and have since been regularised; and
(c) whether correspondence has been done by public representatives regarding examination of the said matter and absorption of Volunteer TCs?
ANSWER
MINISTER OF STATE IN THE MINISTRY OF RAILWAYS
(SHRI MANOJ SINHA)
(a) & (b): No recent Court/CATs direction has been received by Eastern Railway. However, as per earlier orders of CAT/Kolkata in 1980s, a total of 847 Volunteer Ticket Collectors, who were working had been regularized from time to time.
(c): Yes, Sir. A representation from General Secretary, National Union of Backward Classes, SCs & Minorities, West Bengal state Committee was received first on 17.8.2005. Pursuant to direction of Hon'ble High Court/Kolkata in WPCT No. 311/2010 (in O.A. No. 118/2008 of Central Administrative Tribunal, Kolkata), the matter was examined and claim of applicant for regularization was rejected on merit by way of passing of a Speaking Order by General Manager, East Central Railway. The same was also conveyed to the candidates separately.
******
भारत सरकार
राज्यं सभा
अतारांकित प्रश्न सं. 1098
04.03.2016 को दिया जाने वाला उत्तर
स्वयंसेवी टिकट संग्राहकों का समायोजन
1098. श्रीमती कनक लता सिंह:
क्यां रेल मंत्री यह बताने की कृपा करेंगे कि:
(क) क्या कलकत्ता उच्च न्यायालय और केन्द्रीय प्रशासनिक अधिकरण ने पूर्वी रेलवे में स्वयंसेवी टिकट संग्राहकों (टी.सी.) के रूप में कार्य कर चुके कर्मचारियों के समायोजन हेतु कोई निदेश दिया है;
(ख) यदि हां, तो इस संदर्भ में अब तक क्या कार्रवाई की गई और ऐसे कितने स्वयंसेवी संग्राहक हैं जो पूर्वी रेलवे में कार्यरत थे और जिन्हें नियमित कर दिया गया है; और
(ग) क्या उक्त मामले की जांच और स्वयंसेवी टिकट संग्राहकों के समायोजन के संबंध में जन प्रतिनिधियों द्वारा कोई पत्र व्यवहार किया गया है?
उत्तर
रेल मंत्रालय में राज्य मंत्री (श्री मनोज सिन्हा)
(क) और (ख): पूर्व रेलवे को हाल में कोई न्यायिक/कैट निदेश प्राप्त नहीं हुआ है। बहरहाल, 1980 में कैट/कोलकाता के पूर्ववर्ती आदेशों के अनुसार, कुल 847 स्वैनच्छिक टिकट संग्राहकों, जो कार्य कर रहे थे, को समय-समय पर नियमित किया गया था।
(ग): जी हां। 17.08.2005 को पहली बार महासचिव, नेशनल यूनियन ऑफ बैकवर्ड क्लाकसेस, अनुसूचित जाति एवं अल्प संख्य क, पश्चिम बंगाल राज्य समिति से अभ्या्वेदन प्राप्तक हुआ था। डब्यूचित पीसीटी संख्याव 311/2010 (केंद्रीय प्रशासनिक अधिकरण, कोलकाता के मूल आवेदन सं. 118/2008 में) माननीय उच्चत न्या्यालय/कोलकाता के निर्देश के अनुसरण में इस मामले की जांच की गई और महाप्रबंधक, पूर्व मध्य रेलवे द्वारा स्पष्ट आदेश पारित करके आवेदनकर्ता के विनियमन संबंधी दावे को मेरिट के आधार पर अस्वीकार कर दिया गया था। इस संबंध में उम्मीदवारों को भी अलग से सूचित कर दिया गया था।
*****
Stay connected with us via Facebook, Google+ or Email Subscription.
Subscribe to Central Government Employee News & Tools by Email [Click Here]
Follow us: Twitter [click here] | Facebook [click here] | Google+ [click here]
Admin