Change of Nomenclature of Posts of Admin Cadre of MES: AIMESAC & MSA writes to MoD
ALL INDIA M.E.S ADMIN CADRE AND
MINISTERIAL STAFF ASSOCIATION
(RECOGNISED BY GOVT OF INDIA, MIN OF DEF)
CENTRAL HQ AIMESAC&MSA
AIMESAC&MSA/ RA/ 2015
Dated: 25 Feb 2016
Ministry of Defence
D (Works-II)
Sen Bhawan, New Delhi-11
CHANGE OF NOMENCLATURE OF POSTS OF ADMIN CADRE

OF MILITARY ENGINEER SERVICES
Sir,
1. It is submitted that case of change of nomenclature of Admin Cadre of M.E.S. has been initiated to MoD by Engineer-iN-Chief's Br. on 15 Feb 2016 on the line of CSS & AFHQ.
2. DOP&T as a whole is sovereign authority to flame Rules and Regulations for all Central Govt Employees. The Posts of Assistant/ Office Supdt, UDC & LDC are historical paired posts and orders of DOP&T No 21/12/2010-CSI (P) dt 21 Dec 2015 should automatically be applied to all the Directorates of MoD, but applying them only for CSS and thereafter for AFHQ is partiality with other employees of MOD.
3. In View of above, MoD is requested to approve the change of nomenclature of Admin Cadre of MES as recommended by Engineer-in-Chief's Branch.
Thanking you
Your's faithfully,
(Brij Kishore)
General Secretary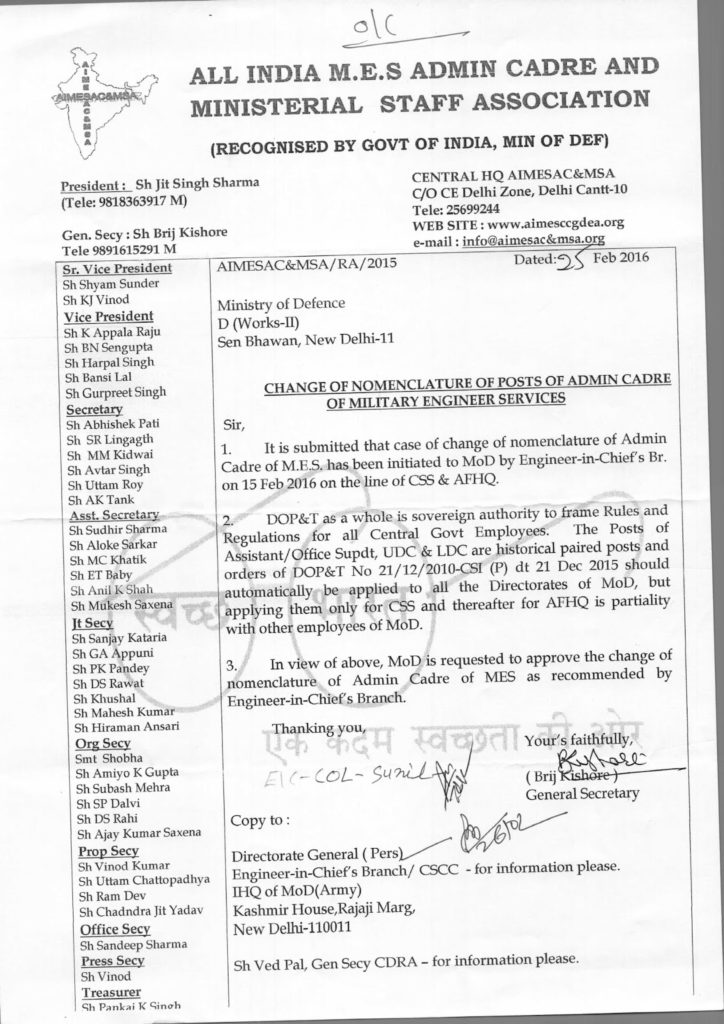 Source: http://aimesccgdea.org/
Stay connected with us via Facebook, Google+ or Email Subscription.
Subscribe to Central Government Employee News & Tools by Email [Click Here]
Follow us: Twitter [click here] | Facebook [click here] | Google+ [click here]
Admin